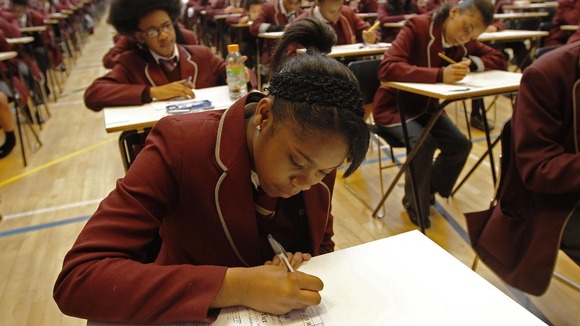 Ofqual's Chief Regulator, Clenys Stacey, answered MPs questions this morning over the grading of GCSE English results. She told the Commons Education Committee that results were down by approximately 1.5%, which was broadly in line with expectations, and insisted that the regulator had played "its proper role, regulating standards."
She categorically denied any interference, but admitted that the fiasco has had a "serious impact on perceptions of fairness. "
ITV News's Sue Saville reports:
Ms Stacey admitted the fall in grades was not felt evenly by schools across the country, and that Ofqual would investigate. She said:
There has been an unusual distribution pattern, a greater variation between schools than expected. And for some schools the results are a far cry from their expectations.
Her comments were strongly contested by a number of representatives from teaching unions, who also addressed MPs.
Brian Lightman, the general secretary of the Association of School and College Leaders, told the committee that the new GCSE English exam implemented this year was "deeply flawed and not fit for purpose". He said:
We would strongly disagree with the claim in the Ofqual report that the standards between years were comparable. That is simply not the evidence we have seen.
Today's hearing came after a series of letters, leaked to the Times Literary Supplement, showed Ofqual wrote to Edexcel on August 7 with concerns that the board was set to award results which would mean the proportion of pupils awarded a C grade or above would be 8% higher than predicted. Ofqual's director of standards, Dennis Opposs, called on the board to:
Produce outcomes that are much closer to the predictions. This may require you to move grade boundary marks further than might normally be required
After the revelations head teachers said Ms Stacey's position was "untenable." John Townsley, head of Morley and Farnley academies in Leeds and former Ofqual board member, said:
We can see, in the most certain terms possible, Ofqual applying immense pressure to the awarding body concerned in order to bring down the number of C grades awarded. Glenys Stacey's position is untenable and she should resign with immediate effect.
The editor of the Times Education Supplement, Gerard Kelly, told ITV News it was "a bit rich" for Ofqual to punish students by having to "play catch up on the bad job they had done."
He said the leaked documents show GCSE students were penalised for Ofqual's earlier mistake in the January exam paper, were a majority of students performed better than expected.
Ofqual said they were determined to get to the "root of this" and would be happy to take part in an inquiry, internal or otherwise. Glenys Stacey concluded her statements to MPs saying:
We have reacted very promptly by concerns addressed to us by schools and colleges, and I know that they recognise that, we have been very open with them about the data information that we are collecting and the conclusions that we are reaching.

We really want to do more to get to the root of this, it is our top priority, it is our job to make sure that standards are right.

Of course we will not object if there is any other sort of inquiry, not at all.