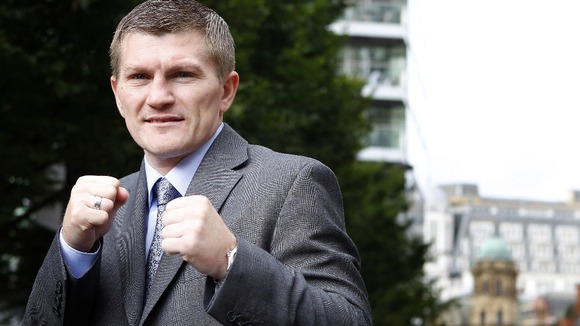 Ricky Hatton said his boxing comeback is not about money but redemption and earning the nation's pride again.
The boxer, who has suffered a series of well-publicised issues in his private life since his last fight saw him knocked out by Manny Pacquiao in two rounds, said his life had turned "to mush" since leaving the ring three years ago.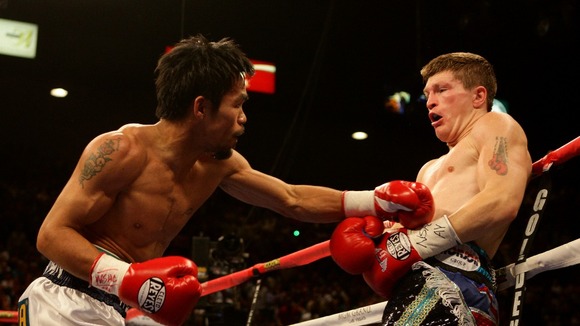 Hatton insisted he did not want to see those demons tarnish his legacy in the sport and added that he was aiming for more world titles.
It's well documented what's happened to me, my life turned to mush.

I feel I've put a bit back into the game but it didn't fill the void. I got my trainer's licence and started working in the ring and that started the fires burning and I started looking after myself a bit better.

I'm back to fight for world titles. It's more than a comeback. It's worth more than money. A lot of people have said they don't want me to tarnish the legacy but they don't know what goes on between my ears.
– Ricky Hatton

ITV News Reporter Damon Green reports:

Hatton faced allegations of cocaine abuse two years ago and within days he was admitted to a rehabilitation facility. Drink and depression were also issues for the boxer at the time.
I don't want people telling my kids that I blew it. I want my kids to be able to say, 'He was a world champion, he had his problems, but my did he bounce back'.

I want people to be proud of me again.

I want British sport, my kids and my fans and my friends to be proud of me. I had my problems but I'm over that now and I want people to look at me in a different light.

I don't want people to see how I flushed my life away. I understand there'll be people concerned for my welfare and it's nice to know there's so many people care about me, but I think they know why I'm coming back.
– Ricky Hatton

Hatton will return to the ring on November 24 in Manchester against an opponent yet to be named.

Speculation has been rife over who the boxer will fight, with several names seemingly in the frame at this stage. An announcement is expected within the next fortnight.

Hatton has, however, ruled out a fight against novices or journeymen.
I'm back to try to win another world title and in order to put myself in a position to do that I need a ranking fight. I'm not going to get ranked if I fight a journeyman, I need a challenge.

I've never shied away from a challenge my whole career and nothing's changed. It will be a fighter that people will respect me for choosing someone of that level and it will be an opponent that will get me ranked, and in getting me ranked I'll be in a position to fulfil my dream which is to have another belt around my waist.

As soon as I get myself ranked and in a position to fight for the world title then that's what I'll be going for.
– Ricky Hatton

Hatton also confirmed he would be returning at welterweight and did not rule out a potential future fight against fellow Brits Amir Khan and Kell Brook.
There's the likes of Paulie Malignaggi who has won a world title at that weight and there's some great fighters in this country like Amir Khan and Kell Brook, and I won't lie to you, I would love a run and jump at those lot.

But this is more than world titles, it's about me redeeming myself.
– Ricky Hatton