Bill Oddie translates bird tweets on Twitter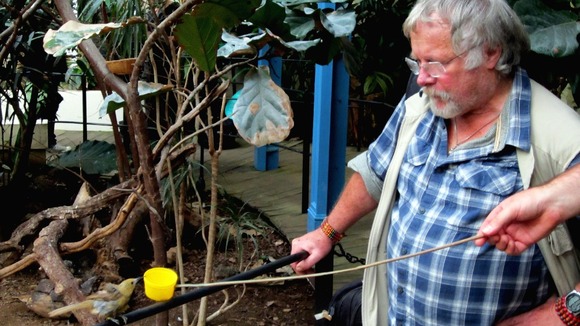 Bill Oddie has given Twitter a more literal meaning today as he translated bird calls into tweets at ZSL London Zoo.
The naturalist and head bird-keeper Adrian Wallis interpreted the chirps of the aviary's tropical residents and summarised the results in 140 characters. The event was held to mark the beginning of the migration season for the bird world.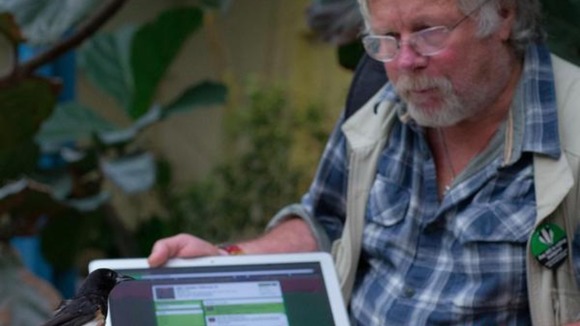 Oddie said trained ears can pick up differences that can alter the meaning of a bird call.
Every bird has a bit of a vocabulary. They have seven different areas of sound, and they will all have meaning.

It might be a young bird asking for food, or a bird saying 'this is my territory.
– Bill Oddie

Tweets from Oddie, under the hashtag #BirdsThatTweet, included:

The Shama is quite vain and enjoys washing itself and can often be seen cleaning its feathers #BirdsThatTweet

That red billed toucan was calling for a girlfriend. Sounds to me like he is shouting for some company! #BirdsThatTweet

Throughout the morning, @BillOddie, @zsllondonzoo and @TwitterUK shared bird-related facts, statistics, links and popular resources.
I jumped at the chance to take part in this activity. What better way to bring Twitter to life for the bird-watching community than translating the tweets of birds.

We are trying to show people what they can do on Twitter when it comes to bird-watching, if people just get involved by using the hashtag #BirdsThatTweet a whole world of tweeting and twittering and ornithological information will be theirs.

We are using Twitter as an educational tool and an informational tool to get the information out there and get people to care about things.

It is a simple fact that every bird has a vocabulary and has several different sounds and they will all have a different meaning.
– Bill Oddie