MP admits falling asleep during Afghanistan debate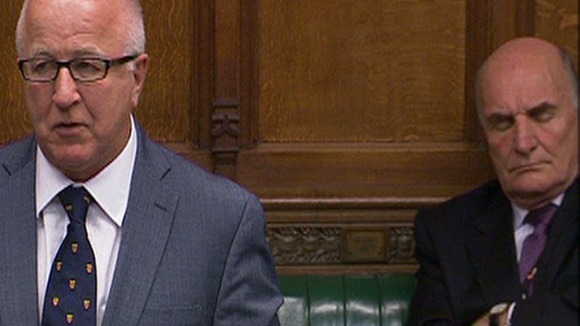 Shadow minister Stephen Pound has admitted dozing off during an emergency debate on the recent green on blue attacks in Afghanistan.
The Labour MP initially denied falling asleep - saying he was looking down at his phone - before re-watching the footage of yesterday's debate.
Afterwards, he said he still had "absolutely no recollection" of taking 40 winks, saying:
I have had a look at it and I entirely accept that I did fall asleep. I have no recollection of it and I'm seeing my doctor. I hold my hands up entirely. It was like looking at a stranger.
Mr Pound was captured by Commons cameras with his eyes shut while sitting behind colleague Denis MacShane, who had forced Defence Secretary Philip Hammond to the House to answer MPs' questions about the latest attacks.
His head bowed particularly when Mr MacShane began quoting war poet Wilfred Owen's Dulce et Decorum est.
Mr Pound said he had received a number of "aggressive" emails overnight accusing him of being disrespectful to British troops. But he insisted that was not the case, adding:
Never in a million years would I be disrespectful, particularly on an occasion like that.