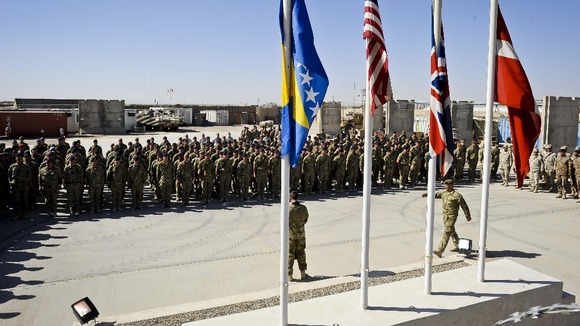 Coalition forces are to scale back operations with Afghan soldiers and policemen following a spate of "green on blue" attacks in which local recruits turned their weapons on international allies.
The move entails most joint patrols and advisory work with Afghan troops to be only conducted at the battalion level and above, while co-operation with smaller units will have to be "evaluated on a case-by-case basis", the International Security Assistance Forces (ISAF) said in a statement.
The decision comes amid mounting concern over 'insider attacks' on coalition forces. Two British soldiers were among those killed this weekend after being lured to their deaths by an attacker dressed as an Afghan policeman and feigning injury.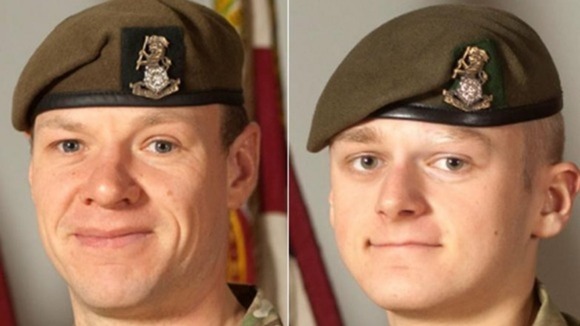 Married father-of-two Sergeant Thursby and Private Wroe were shot dead at a checkpoint on Saturday in the south of Nahr-e Saraj district, Helmand province.
An ISAF spokeswoman insisted that it remained committed to its partnership with the Afghan National Security Forces (ANSF):
Most partnering and advising will now be at the Kandak (Battalion) level and above.

This does not mean there will be no partnering below that level - the need for that will be evaluated on a case-by-case basis and approved by RC (regional) commanders.

In some cases, ANSF are fully capable of increased independent activity and their advisers will simply be stepping back to advise from the next level.

Make no mistake about it: we remain committed to our partnership with the ANSF, and we continue to move forward and will meet our campaign objectives.
– ISAF Joint Command spokesperson

Coalition security forces have subsequently revealed that they have arrested one of the Taliban leaders behind Friday's Camp Bastion attack.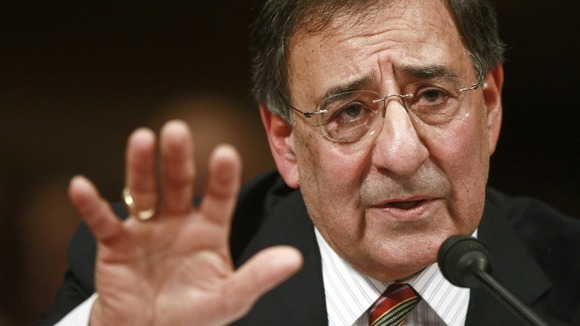 Issues over the risk of 'handing over' to Afghan troops have risen as a result of the attacks. US Defense Secretary Leon Panetta said earlier today that the US is concerned about the impact insider attacks are having on its forces in Afghanistan.
Mr Panetta insisted General John Allen, the top US commander in the country, is taking necessary steps to protect the force while still ensuring the US will be able to hand over security to the Afghans and be able to withdraw by the end of 2014.
Speaking to a press conference, Mr Panetta said:
[The Taliban] are resorting to efforts that try to strike at our force, try to create chaos, but do not in any way result in their regaining territory that has been lost.
– Leon Panetta, US Defence Secretary

The move was unannounced by UK's Defence Secretary Philip Hammond, after an urgent question was granted over the Afghanistan situation.

Mr Hammond told ITV News' Deputy Political Editor Chris Ship that the 'strategy will not change':

Mr Hammond continued with the rhetoric today that the measures are a "draft", adding that there will "no change" of British policy in Afghanistan.

However, former Labour Foreign Office Minister Denis MacShane today sought to force Defence Secretary Philip Hammond to appear before MPs and answer an urgent question over the situation.

Dr MacShane said that he believed Mr Hammond had simply not been informed by the Pentagon of the impending shift in procedures, and described it as a "humiliation" for the Defence Secretary:
Mr Hammond did not mention this in his Commons response to my urgent question yesterday. If he did know this major U-turn was about to be announced, but did not tell the House, that is very grave.

If he was not informed in a timely fashion it says much for the importance the US attaches to informing the UK of a complete change in their Afghan policy despite our major troop presence and continuing sacrifice there.
– Denis MacShane, Labour MP

The US is days away from completing the first stage of its own drawdown, withdrawing 33,000 troops that were part of a military surge three years ago. The US will remain with about 68,000 troops at the end of September.