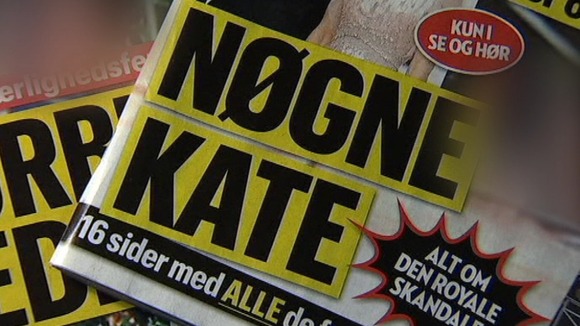 A Danish magazine had published topless photographs of the Duchess of Cambridge, despite the royal couple being granted an injunction from the French court.
The SE og HØR (See and Hear) magazine will release a 16-page supplement of Kate filled with "spicy photos" tomorrow on newsstands, though the images will not be made available on its website.
It comes after the magazine's Swedish sister title ran the same images today in an 11-page spread. ITV News Europe Correspondent Emma Murphy reports:
The Danish magazine's editor-in-chief, Kim Henningsen, said he was "incredibly proud" to have acquired "exclusive" access to images of the "royal bosom."
In a message to readers on the magazine's website, he made no apology for running the infamous images, claiming the duchess "willingly [showed] her breasts to a public road."
Our readers love to follow the lives of royalty and celebrities, and demand revealing news, up close. I am therefore incredibly proud that we have acquired the rights to carry the topless pictures of Great Britain's future queen that the whole world is currently talking about, but which very few have actually seen.

It is in the DNA of SE og HØR to entertain and satisfy our readers' curiosity. Therefore, it is always relevant to us when a duchess and future queen of England is topless and still willingly shows her breasts to a public road.
– Kim Henningsen

Earlier this week, a court in France granted an injunction against the publisher of French magazine Closer blocking them from re-publishing or passing on the photographs.Under the ruling, the magazine will be fined 10,000 euros (£8,070) Under the ruling, the magazine will be fined 10,000 euros (£8,070) for each day it breaches the injunction and has been given 24 hours to remove all the images from its website and other online sources.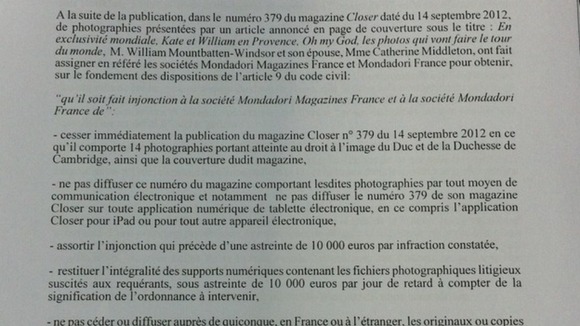 The injunction was granted by the court house in Nanterre, located outside Paris, in a four page written judgement.
These snapshots, which showed the intimacy of a couple, partially naked on the terrace of a private home, surrounded by a park several hundred metres from a public road, and being able to legitimately assume that they are protected from passers-by, are by nature particularly intrusive.

[The couple] were thus subjected to this brutal display the moment the cover appeared.
Today, Paris police raided the headquarters of the French magazine as they hunt for the photographer who pictured the Duchess.
Officers arrived at 10am at the magazine's headquarters in the Paris suburb of Montrouge. They were reported to have searched the publication's offices and examined journalists' computers.
Meanwhile, the royal couple's tour of the Far East and the Pacific came to an end. William and Kate spent their final night dancing with Islanders from the tiny Pacific Nation of Tuvalu.
Our Royal Correspondent Tim Ewart has been travelling with the couple and sent this report: