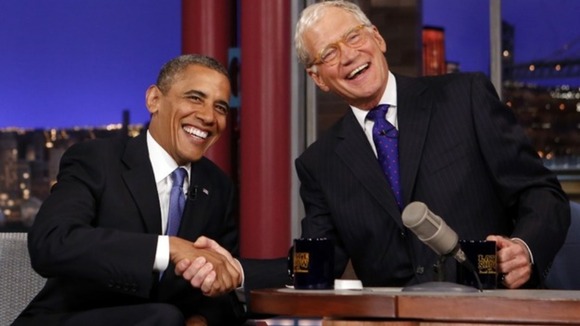 President Barack Obama declared that the occupant of the White House "must work for everyone, not just for some", after Republican presidential candidate Mitt Romney dismissed Obama supporters as victims who are dependent on the government.
In a secretly-filmed video that was leaked to the press, Mr Romney suggests that 47% of Americans who do not pay income tax are the same group who will vote for Mr Obama.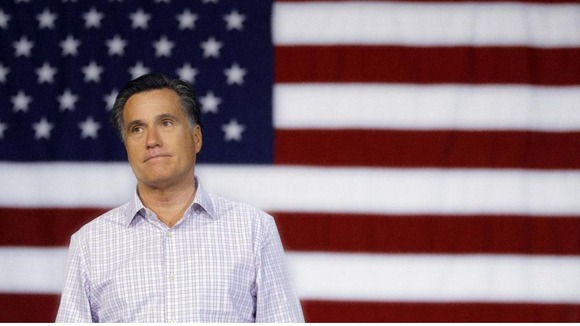 In response, Mr Obama used his appearance on CBS "Late Show with David Letterman" to slam his opponent for "writing off a big chunk of the country" .
The US broadcaster released this preview of the President's appearance, which aired at 4.30am BST:
In an effort to make political capital out of Mr Romney's unguarded comments, the Obama campaign released this image juxtaposing quotations by the two candidates on their Twitter account.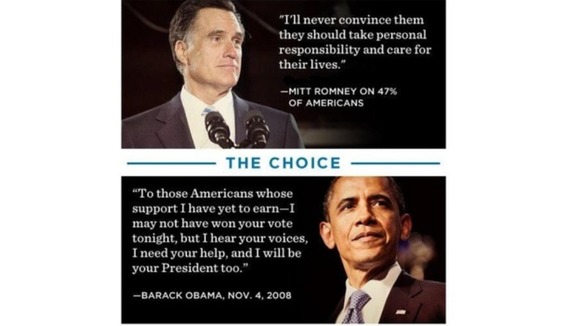 The former Governor of Massachusetts' comments were allegedly made at a private event for Republican donors. Obama's campaign quickly pounced on the video, and made it public:
Mr Romney has neither disavowed nor apologised for his remarks, instead confirmed in a hastily called news conference on Monday that he stood by his comments but said they were not 'elegantly stated'.
Mr Romney's running mate, Representative Paul Ryan, said the Republican presidential nominee was "obviously inarticulate" in trying to make his point. Mr Ryan told KRNV-TV in Reno, Nevada:
The point we're trying to make here is, under the Obama economy, government dependency is up and economic stagnation is up.
– Paul Ryan, Republican running mate

In an interview on Fox, the network of choice for conservatives, Mr Romney said he did not intend to write off any part of a deeply divided electorate, reframing his remarks as a philosophical difference of opinion between himself and Mr Obama:
I'm not going to get votes from Americans who believe government's job is to redistribute wealth.
– Mitt Romney, US Republican Presidential Candidate

Mr Obama responded: "One thing I've learned as president is that you represent the entire country".

Despite the focus on the video that was shaking up the presidential campaign, Obama's appearance was not wholly serious in tone.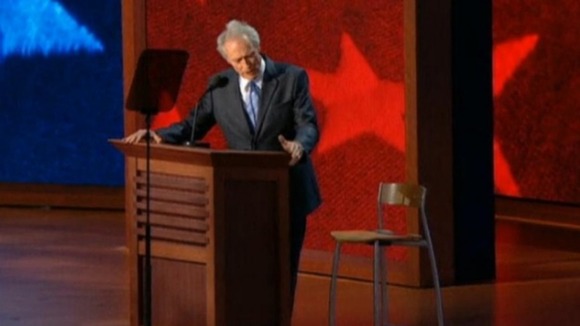 At the start the interview, the host asked his guest whether he wanted to say anything to the empty chair next to him.
It was a reference to film star Clint Eastwood's speech at the Republican convention last month in which he addressed an imaginary President Obama sitting in an empty chair on stage.