Final flight of Endeavour: Space shuttle says goodbye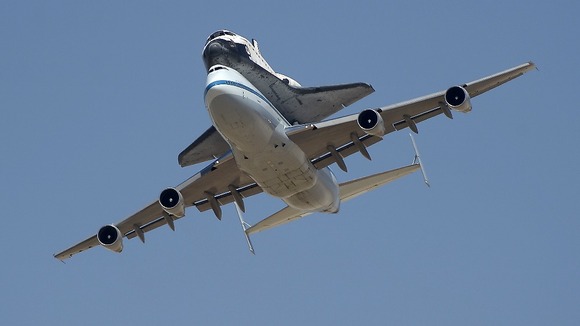 The space shuttle Endeavour, bolted to the top of a jumbo jet, took off for a last airborne victory lap over California in its way to its final frontier and retirement home - a science museum in Los Angeles.
Stopping off at some local land marks and even making it to Arizona to say goodbye to ex-commander, astronaut Mark Kelly, who hailed Endeavour as, 'his space ship.'
ITV News's Washington Correspondent Robert Moore reports:
Riding piggyback on a specially modified Boeing 747, the 75-ton winged spaceship departed on the final leg of its cross-country trip.
After making at least 20 planned low-altitude passes over some of California's best-known landmarks and scientific institutions, including Disneyland and the Jet Propulsion Laboratory and the Golden Gate Bridge it headed to LA.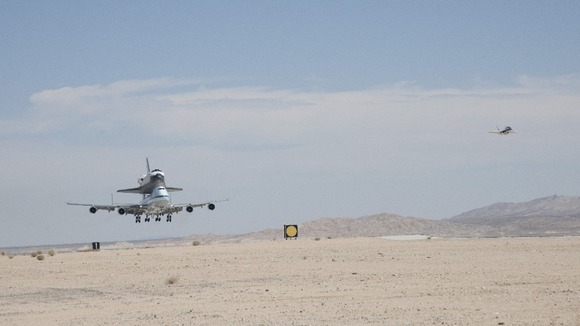 People across California have been trying to 'spot the shuttle' as Endeavour made its journey and have posted their tributes and pictures on Twitter:
Endeavour flies over state Capitol in CA...this spaceship represents amazing human achievements http://t.co/GfrHgsWy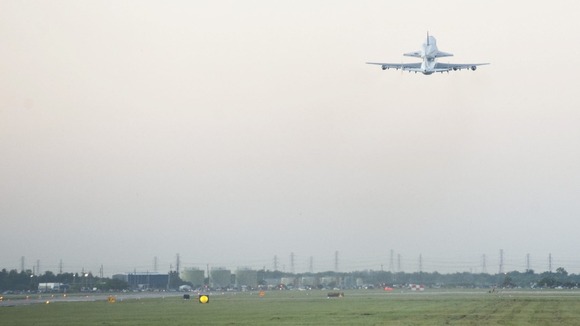 Earlier this week as a part of its trip, Endeavour and its carrier jet performed a fly-by pass over Tucson, Arizona, in tribute to former Congresswoman Gabrielle Giffords and her husband, Mark Kelly, the retired astronaut who commanded Endeavour's final flight on his last mission in late May 2011.
A former aide, C.J. Karamargin, who joined the couple for the event said:
When it came into view, Mark said, 'There's my spaceship!

Gabby was just elated, hooting and hollering like the rest of us were.
After its arrival at Los Angeles, Endeavour will undergo preparations to be moved next month through city streets from the airport to its permanent home at the California Science Center.
To make way for the huge shuttle along its 12 mile (19km) route to the museum, crews will cut down nearly 400 trees, raise telephone wires and temporarily removing hundreds of utility poles, street lights and traffic lights.
The science centre will plant 1,000 new trees to replace those removed.
Endeavour is the second of NASA's three surviving shuttles to be sent to a museum. The oldest surviving shuttle, Discovery, is on display at the Smithsonian Institution's Steven F. Udvar-Hazy Center outside Washington.
Atlantis, which flew NASA's 135th and final shuttle mission in July 2011, will be towed down the road to the Kennedy Space Center Visitor Complex in November.
NASA lost a fourth shuttle, Columbia, in another fatal accident in 2003. That shuttle was not replaced. A shuttle test vehicle, Enterprise, which has never flown in space, has already been delivered to a New York City museum.