Save the Children have issued an urgent appeal to the UN ahead of today's assembly to act to stop the escalating conflict in Syria. The appeal comes as they released a report called Untold Atrocities, a first-hand account of the crisis from children who have fled the country.
The report was based on interviews with children who have been a victim of the war waged by President Assad against his own people. The children told harrowing accounts of their experiences and that of their peers and recounted incidents of torture: of being used by the army as human shields on tanks, of having their fingernails pulled off and being burned with cigarette stubs.
They were interviewed with the remaining members of their families at the Za'atari Refugee Camp in Jordan .
Ali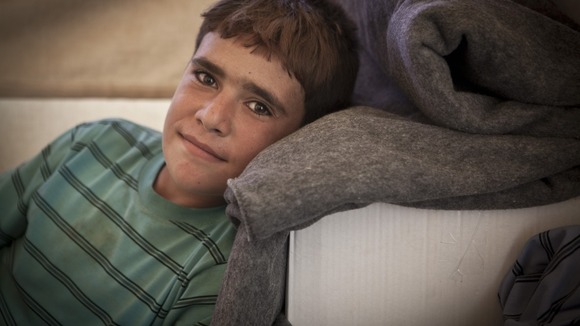 Ali's family left Syria because of shelling by the government troops on his home. A few days before the family came to Jordan, two of his cousins were killed: a 17-year-old boy and a 9-year-old girl. He said he could not remember how many times his house was shelled. He described becoming 'more brave' every time the armed men came to their home.
Our family left Syria because of the constant bombardments. You cannot believe how many shells we were subjected to. We could barely sleep. That's why we ran away. They started shelling randomly and heavily. We hid in the shelter. A shell hit my aunt's house and killed my cousins. I feel I cannot tolerate seeing the house where they were killed. Whenever I hear shelling, I get terrified and I start to cry and remember my cousins.
Hassan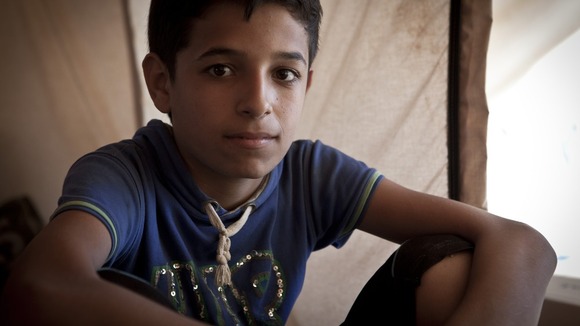 14-year-old Hassan was injured in rocket attack at a funeral. He witnessed a massacre that killed his cousin and uncle. He described soldiers using children as human shields and was one of several children interviewed who described how militia from the Assad regime would torture younger boys.
My brother and two cousins and I went to bring the bodies of my uncle and cousin. When we reached there we saw bodies on the ground. Nobody was there to help. We saw scattered flesh. I was devastated. I hated my life and hated myself. When we went to the mosque we saw people bringing tens of bodies there.
Omar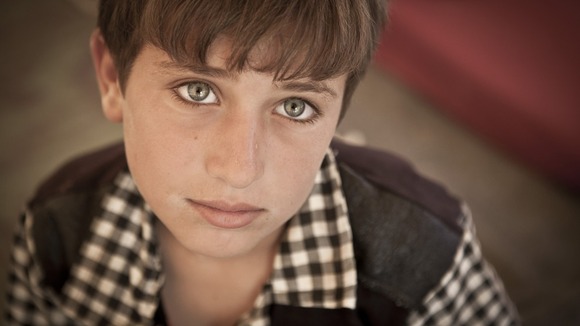 Omar says his family left because of the shelling, which was so bad his family slept outside their house at night. His nine-year-old cousin was killed when her house was shelled.
When the shelling started a woman and four men died that day. On the following day, we went to the shelter and the shelling continued. On the third day of bombardments, we felt that we were not safe in the village anymore. One day while I was sleeping, I woke up to hear that shelling was happening again. They used to shell us and hit us with missiles.
Nur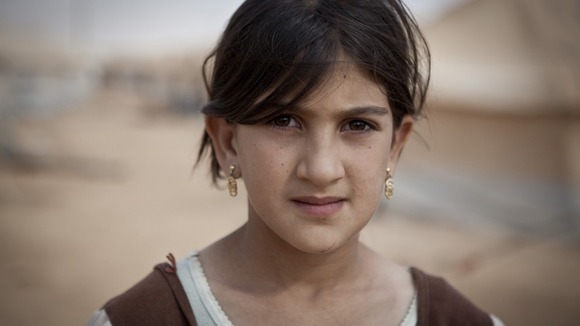 Nur's family lived in Deraa and have been subjected to attacks by tanks, air strikes, missles, and bombs. Nur said she was terrified of the shelling and hid with her family and neighbours in a shelter before the family fled. She said she has nothing to go home to as she does not believe there could be any buildings left.
Earlier they used tanks. Then they went further and stated using air strikes, bombings, missiles and every weapon you could think of. They killed us. Today there is nothing left in Dera'a.
Khalid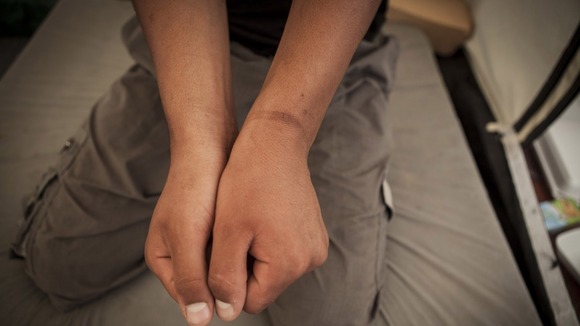 15-year-old Khalid described being tortured by Syrian government troops. He was arrested, taken to his former school and held in a room with 100 young men and boys as young as 12-year-old for several days with no food and water. His hands were tied and he was hung by his wrists from the ceiling.
I was kept there for ten days. For the first two days, we were forced to stand upright. I was blindfolded and my hands were tied with plastic cord.

I was terrified. More than 100 of us were kept in a room in the school.

After two days I was taken out of the room to be interrogated. I hadn't eaten anything or drunk any water, and I was extremely weak. They hung me up from the ceiling by my wrists, with my feet off the ground, then I was beaten. They wanted us to speak, to confess to something.

Most people only last an hour before they pass out. If you were hung up like that for more than two hours, you'd die. I passed out. I passed out from the severe pain of hanging like that, and from the beating.

They took me down and threw cold water on my face to wake me up. Then they took turns stubbing out their cigarettes on me
To read the full report and find out how you can donate go to the Save the Children website.