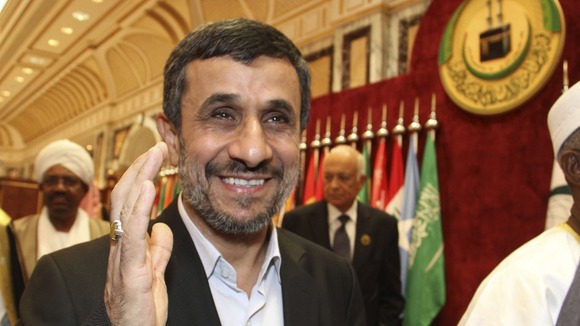 Iran's President Ahmadinejad has criticised extreme reactions to the controversial anti-Islam film that sparked protests across the world.
Speaking on Tonight with Piers Morgan, Ahmadinejad also said that "offending the holy prophet is quite ugly" but that the issue should be resolved in a more relaxed and participatory environment.
Ahmadinejad was also quizzed on the news that the daughter of former Iranian President Akbar Hashemi Rafsanjani has been jailed for "spreading anti- state propaganda."
"The government has paved the way for the highest form of freedom. People sometimes trespass the proper lines of protest.
"I am never happy that someone goes to prison. But, also keep in mind, in any country, everyone must be treated as equal under the law" he said.
Seeking to clarify his controversial comments regarding Israel, he said:
If a group comes and occupies the United States of America, destroys homes while women and children are in them, impose wars on five different neighbours and incarcerate the youth, what would you do?

When we say "to be wiped out" we say for occupation to be wiped, the killing of women and children to be eradicated. The path is to recognise the right of the Palestinians to self governance.
Later in the programme, Ahmadinejad described homosexuality as 'ugly' when questioned by Morgan on how he would react if one of this children was gay.