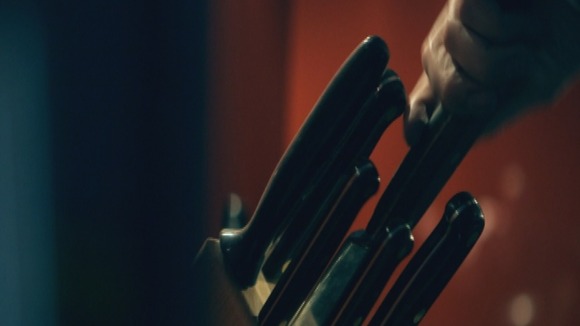 In an extraordinary TV exclusive, The Tonight Programme meets Vincent and Karen Cooke, who are locked in a nightmare after intruders broke in to their home last September.
Their ordinary Saturday night in turned into a fight for survival at knifepoint, their world turned upside down.
The issue of self-defence and the homeowner's right to protect his or her self always provokes public anger and sympathy.
Presented by Julie Etchingham, the Tonight programme asks how far you would go to protect yourself and your family from intruders and explores what the law says we can and can't do in self-defence.
Intruders Raymond Jacob and Michael Thorpe believed thousands of pounds and a Rolex watch were in the Cooke's house.
Mr Cooke's recollection of this harrowing event is that once inside the front door both men pulled out knives.
I hear the door go basically, the doorbell rang, I got up, left the living room and went into the hallway.

I thought it was Karen forgetting her keys.

I was messing around at first, before I'd even seen the front door, I have said in a silly voice, 'who is it?' thinking it was Karen.

I noticed once I'd got into the hallway that they had like high visibility jackets on.

I said who is it and they've said gas and just as I opened the snib, they kicked the front door towards me and I was stood right directly behind it.

So the door's smashed against me, and they've shouted customs and it was like they were raiding me.

One had a knife to my throat so there was nothing for me to do, I couldn't resist it.
– Vincent Cooke

The actions Vincent eventually took that day ensured his name would go down in history alongside other homeowners who have literally taken the law into their own hands.

Under existing law homeowners can rightly defend themselves and their property with reasonable force.

But specially commissioned research carried out for this programme by ComRes reveals that half of the population (50%) are still confused about what that means.

Vincent was driven away for questioning over the death of Raymond Jacob that night. The debate about whether his actions were justified began then.

In Self-Defence; Tonight will be broadcast on Thursday 27 September at 7.30pm on ITV1.

For more information you can visit: