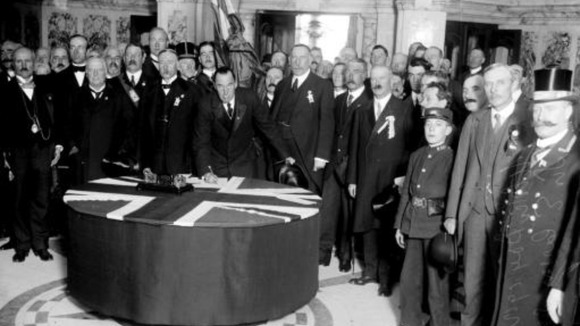 An Orange Order parade will be held in Belfast tomorrow to commemorate the centenary of the Ulster Covenant - the unionist proclamation against plans for Home Rule in Ireland.
It is set to be one of the biggest demonstrations witness in Northern Ireland in recent times, with an estimated 30,000 marchers are expected to take part.
Leaders across the political divide have urged marchers and protesters to show dignity and respect for each other and a massive security operation is underway to prevent clashes at potential flashpoints.
The Parades Commission, which rules on controversial marches, has also placed restrictions on both sides ahead of the parade that will pass St Patrick's Catholic church.
The church was the scene of clashes in July after a band was accused of playing sectarian music.
ITV News' Geraint Vincent reports from Belfast.
Key restrictions imposed by the commission are:
Those involved in the part of the Ulster Covenant parade that passes St Patrick's Catholic church in the north of the city must only play sacred music.
The commission also placed the sacred music restriction on bands that will pass St Matthew's Catholic Church.
A protest planned in the Donegall Street area should be limited to no more than 150 participants.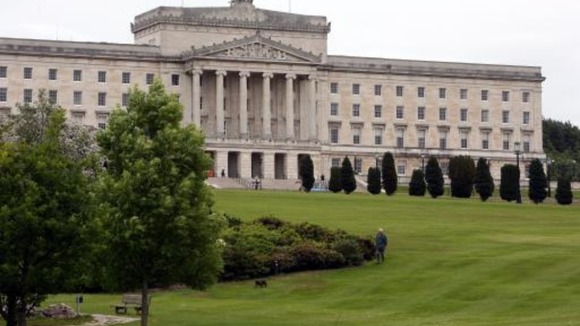 The centre piece of the Covenant commemorations will be a cultural festival staged in the grounds of the Northern Ireland Assembly at Stormont.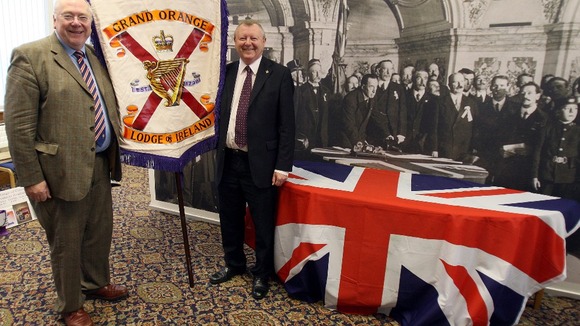 Earlier this week, Mervyn Gibson, the grand chaplain of the Orange Order, said:
We would appeal that all our members show the usual dignity when on parade.

We are out to celebrate something that was actually the birth certificate of Northern Ireland. We want everybody involved to have a good day.

We want those who watch the parade, maybe not sympathetic to the political aspiration of being unionist, to also enjoy the parade and to see the significance that it has for the whole unionist community.

It's not about the Orange Order, the loyal orders even, on Saturday. It's about the whole community celebrating the Ulster Covenant.
– Mervyn Gibson, the grand chaplain of the Orange Order