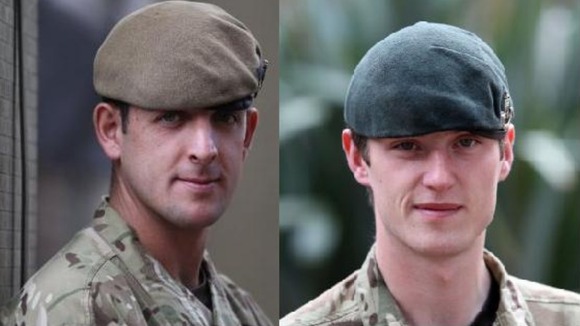 A soldier who led a bayonet charge through Afghan insurgent enemy fire and another who fought on despite being shot in the head have been awarded the Military Cross in the latest round of military honours.
The men were among seven service personnel given the awards for gallantry during active operations in Afghanistan.
Scores of other personnel were also recognised in the honours for their incredible bravery and contributions.
ITV News' Sejal Karia reports:
Rifleman Matthew Wilson, 21, of 2 Rifles, received the Military Cross for running to protect a wounded comrade in a deadly game of cat and mouse in which he was shot in the head.
Acting Corporal Sean Jones, 25, of 1st Battalion The Princess of Wales's Regiment, was honoured for leading a bayonet charge over 80 metres through enemy fire.
Rifleman Wilson, of Aberystwyth, ran forward into open ground in Nahr-e Saraj to help his colleague, who was shot in the leg, when a bullet glanced off the top of his helmet knocking him unconscious for 30 seconds before being shaken awake.
Bullets continued to pepper the soldiers' location from a hidden sniper.
"I just remember waking up with a massive headache but I didn't realise what had happened right away," the rifleman said.
Insurgents tried to shoot down a casualty evacuation helicopter so Rifleman Wilson dodged a hail of bullets to find cover and return fire and stood on a wall to point out the insurgents' firing spot to an incoming Apache attack helicopter. He added:
When I got up, the insurgent who shot me knew I was still alive so he kept on firing at me. Staying there wasn't a good place to be, but also we couldn't risk the helicopter going down or the shooter hitting the casualty or one of the helicopter crew.

We needed to do something about it and nobody else cold get eyes on the shooter's position. So I started pegging it.
Rifleman Wilson then continued with his four-hour patrol.
Cpl Jones, of Tern Hill near Market Drayton, Shropshire, was second in command of a patrol trying to draw out insurgents who were planting homemade bombs in the village of Kakaran, Helmand Province.
The soldier and his men were ambushed and overwhelmed by insurgents who trapped them, so the father of two ordered three of his men to fix bayonets before breaking cover and leading them across 80 metres of open ground raked by enemy fire. He said:
I asked them if they were happy. They were all quite young lads and the adrenalin was racing. I shouted 'follow me' and we went for it. I got 'Commander's Legs' on and was going very quickly.
Cpl Jones's assault made the insurgents retreat in disarray.