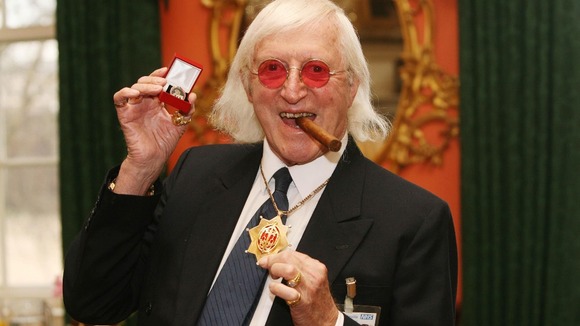 Five women have claimed they were sexually abused by Jimmy Savile when they were young girls.
The allegations will be aired in an ITV Exposure documentary being shown on Wednesday.
Two of the alleged victims have waived their anonymity to take part in the programme, which claims that the presenter abused girls as young as thirteen.
Sir Jimmy, who was famous for TV shows like Jim'll Fix It and Top Of The Pops, died at his home in Leeds on October 29, aged 84.
He was never charged with any sexual offences when he was alive.
Anyone affected by the issues raised in this programme can contact the NSPCC Helpline on 0808 800 5000 or your local police force
You can also contact the National Association for People Abused in Childhood by calling 0800 085 3330.
The helpline is open 10am-9pm Monday to Thursday and 10am-6pm on Fridays
One of the alleged victims in the Exposure programme, going by the pseudonym Val, said she was indecently assaulted "probably dozens of times" as a 15-year-old and claims she was raped when she was 16.
As a mature woman now, I look back and I think I was actually raped on that first occasion because I definitely didn't know we were going to have full sex and I definitely said to him, "You're not going to go all the way".

So looking back I think, "Oh my god, he actually raped me".
– Val

Another one of the alleged victims, Charlotte, says she was 14 when she was indecently assaulted by Jimmy Savile in a caravan parked in the grounds of her residential school said she was punished for making a complaint against Savile at the time.

She said:
I was taken upstairs to the isolation unit, left there for two or three days and said that I could come back into the building when I refrained from saying such filthy things and retract the accusations and you know, that was it.

When I came out I just didn't say anything more because I hated it in the isolation unit, it was a padded cell.
– Charlotte

Another alleged victim, Fiona, also a pupil at the residential school Jimmy Savile donated money to, said she was 14 when she was abused in the back of his car.
I was sat with him on my own in the back of the car and I knew the moment he asked me to stay in the car with him, I knew what was expected of me - because I was having this wonderful day out and I was expected to pay for it.

And that's what I did. I now know it was wrong and I can still get very angry about it, but nobody believed me then, so I don't expect anybody to believe me now if I'm honest.
– Fiona

The alleged abuse was also said to take place inside the dressing room of Savile's BBC show Clunk Click.

ITV documentary interviewee Fiona said she was regularly abused by the presenter:
It was almost as if I wasn't there, I wasn't watching it because I was thinking too much about what had happened and what I had to do the following day.
– Fiona

Esther Rantzen has said she, "couldn't remain neutral" after hearing the claims of sexual abuse by Jimmy Savile.

Highlighting his good reputation the broadcaster said, "knighted by the Queen, knighted by the Pope, fantastic charity fundraiser, which of course he was, he was all those things. But he was also a child abuser."

Sir Jimmy Savile's nephew has told ITV news that his family are disgusted and disappointed by the allegations of sexual abuse against his uncle.

His nephew condemned the programme, saying Sir Jimmy is no longer alive to defend himself.

The BBC responded to reports that Sir Savile's inappropriate behaviour had been an "open secret" at the corporation:
The BBC has conducted extensive searches of its files to establish whether there is any record of misconduct or allegations of misconduct by Sir Jimmy Savile during his time at the BBC. No such evidence has been found.

Whilst the BBC condemns any behaviour of the type alleged in the strongest terms, in the absence of evidence of any kind found at the BBC that corroborates the allegations that have been made it is simply not possible for the corporation to take any further action.
– BBC

Former BBC producer Wilfred De'ath has said that Jimmy Savile's abuse of young girls was, "not a surprise, everybody in the broadcasting world knew this was going on , it was the subject of common gossip."

The BBC also explained why an investigation by BBC2's Newsnight into Sir Jimmy was never broadcast.

Newsnight editor Peter Rippon said:
It is absolutely untrue that the Newsnight investigation was dropped for anything other than editorial reasons.

We have been very clear from the start that the piece was not broadcast because the story we were pursuing could not be substantiated.

To say otherwise is false and very damaging to the BBC and individuals. The notion that internal pressure was applied appears to be a malicious rumour.
– Peter Rippon