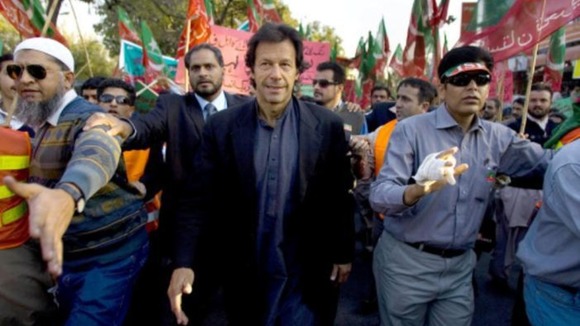 The Pakistani cricketer turned politician Imran Khan will lead a peace rally in Sunday to South Waziristan, a dangerous tribal region of Pakistan currently being targeted by CIA drone attacks.
The area has been off limits for years because of the war being fought between the Pakistani Taliban, Tehreek-e-Taliban Pakistan (TTP), and the army.
The rally is an attempt by Mr Khan to draw international attention to number of civilians killed and terrorised by the unmanned killer planes that are a near constant presence in the region.
Mr Khan said he hoped the march would debunk the myth that drones only kill militants.
This is the first time that we have invited international peace march with the opinion makers in the tribal areas.
– Pakistani politician Imran Khan

The Pakistani Taliban issued a scathing statement on Mr Khan's march saying they will not be providing protection to thousands of expected protesters.

Spokesman Ihsan-ullah-Ishan accused the leader of opposition party Pakistan Tehreek-e-Insaf (PTI) of using the peace rally as an attempt to bolster his own political career:
Our Mujahideen are not so priceless that we deploy them to protect a westernized and secular personality.

One thing I want to say is that Imran Khan's so-called peace march is not in sympathy of drone hit Muslims; instead its a try by him to increase his political height
There are concerns for the safety of the number of international anti-war activists attending the march.
Many women from the US campaign group Code Pink have been protesting against the use of drones in the USA and in Pakistan.
The CIA's drone campaign has killed dozens of civilians, including those who had gone to help rescue victims or were attending funerals, according to an investigation by the Bureau of Investigative Journalism.
They estimate that between 282 and 535 civilians have killed since Obama took office.
There have been 260 attacks by unmanned Predators or Reapers in Pakistan by Obama's administration – averaging one every four days. Because the attacks are carried out by the CIA, no information is given on the numbers killed.
– Bureau of Investigative Journalism

President Obama has repeatedly claimed that drones were "targeted, focused effort" that did not harm civilians.

The use of drones outside a declared war zone is seen by many legal experts as setting a dangerous precedent.

Khan's plan is to depart from Islamabad on Saturday with a convoy of foreigner and journalists, with a view of reaching the South Waziristan border by nightfall.

Local authorities have said they are worried about the march, as the area is generally off-limits to anyone except the people who live there.