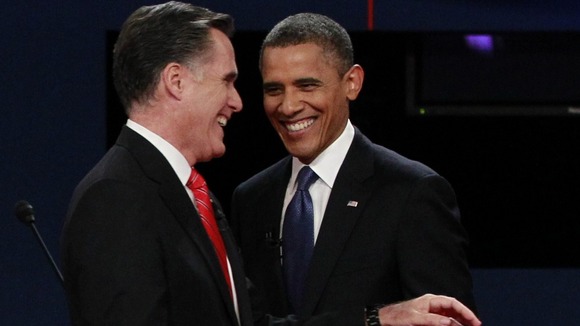 Less than 48 hours since the president received a battering on his handling of domestic policy at the first presidential debate, figures out today will put a different complection on the state of the US economy, and on the election.
Jobs numbers show that the modest recovery continues, with employers adding 114,000 jobs in September.
As a result the unemployment rate dropped to 7.8 percent - that's the lowest since President Obama's first month in office.
He may not have had a good night on Wednesday, but he'll make hay today.
"After losing about 800,000 jobs a month when I took office, our businesses have now added 5.2 million new jobs over the past 2.5 years."
However, Republican presidential nominee Mitt Romney described the report as "disappointing."
Today's disappointing unemployment report is not what a real recovery looks like. We can't afford another four years like the last.
A month from now the numbers for October will be announced just 4 days before election day, and may prove pivotal.
Are people better off than they were four years ago, the Republicans will ask.
The bumps and bruises of that debate out of the way, both of the presidential hopefuls today have a full schedule of events. The two candidates start their campaign day in Virginia.
The state has become a highly sought-after prize and you can expect both sides to be there frequently in the next four weeks.
It was once a safe Republican stronghold but now sits firmly in the column of "purple states", those that are neither Democrat blue nor Republican red.
This is largely due to the growth in the Northern Virginia suburbs of Washington DC, which borders the state.
These areas are home to a more liberal population, and also have a higher proportion of African Americans, who tend to vote Democrat, particularly in the last two elections.
The candidates then head in opposite directions.
The president heads to Ohio where he leads in the polls, in part due to his financial bail out of the car industry there.
It is a state that Mitt Romney needs to win: no Republican has lost here in the modern era and also won the presidency.
The challenger heads south to the Sunshine State of Florida. It is the biggest battleground state, and is potentially fertile territory for Romney, which is why his party's recent convention of faithful members was held there. He's holding a rally tonight only a few miles from the site of that Tampa gathering.
It's a state that will see a lot of Romney over the next few days: he's staying there throughout the weekend.
On Monday, Columbus Day in America, Romney will make a key speech on foreign policy, once again in Virginia.
This is the way his campaign announced it: "Mitt Romney will deliver a foreign policy speech at Virginia Military Institute in Lexington, Virginia. He will offer a stark contrast between his vision for a strong foreign policy and the failed record of President Obama."
The speech comes 11 days before the next presidential debate, which will focus on America's policy abroad. Following the lop-sided outcome of first head to head, it must be a confrontation that Mitt Romney is relishing.