David Blaine performs one million volt stunt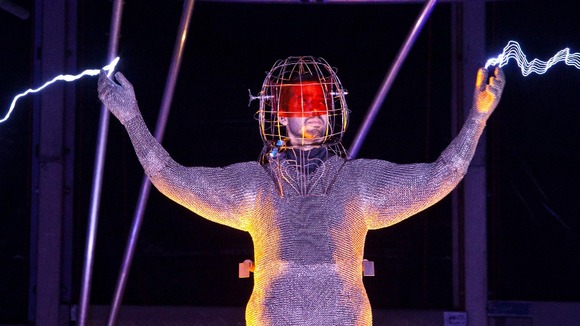 Daredevil stuntman David Blaine lit up New York's Pier 54 Friday for his latest high voltage feat.
The illusionist will spend the next three days and nights standing in the middle of a million volts of electric currents streamed by tesla coils.
Before the event, Rob Rollinger, the "Electrified" global program manager, said:
"We're doing 'Electrified' and it's a three day, three night event with David Blaine. He'll be in these, surrounded by a million volts of electricity by these seven tesla coils until Monday night,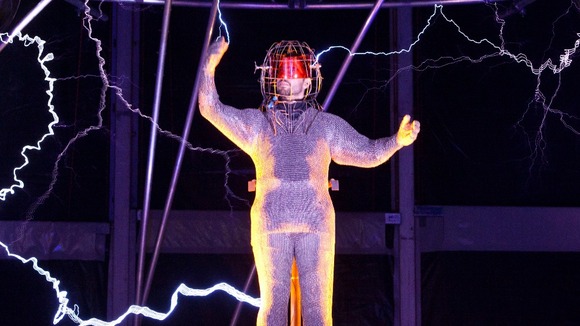 For the stunt, the 39-year-old is wearing a chainmail bodysuit as a barrier between himself and the electric currents. He has a wire helmet on, a visor to shield his eyes, and hearing protection for his ears.
Blaine won't be able to eat but will have a tube for water in and another tube for water out, so to speak. Because he fasted for days beforehand, he doesn't expect any other bodily waste.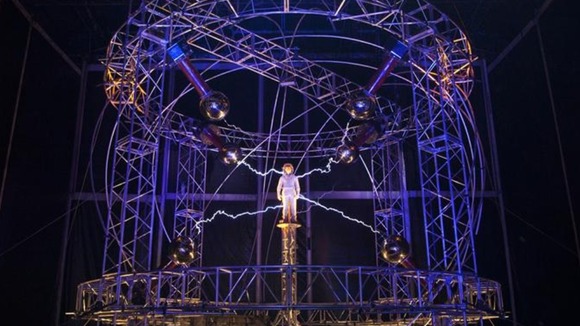 Fans lined the west side pier to check out the stunt called "Electrified: One Million Volts Always On."
Spectators can type messages to Blaine and control the electricity around him on site in New York or at viewing stations in London, Beijing, Tokyo and Sydney.
One fan, Jose Antonio Romero said:
This is amazing. I mean who, if anyone ever thought about doing this before I mean you're too late. This guy really, he concurred it. I mean just to stand there and watch the circuits just flow through him. It's just amazing, It really is."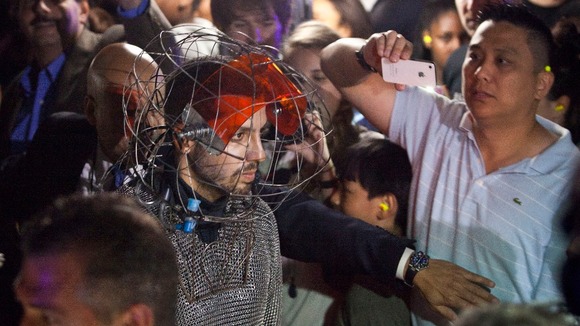 Young on-looker Fabien Duchateau liked the idea of the interactive stunt. He said:
"It's pretty fair that countries should get to control all of those things that are shocking him. I think it's pretty fair that they should choose which ones to shock him."
"Electrified" will also be streamed on YouTube.
But not everyone in the crowd was wowed by the theatrical feat.
Keisha Trappier said:
"I really was not amazed this time David because he's had better performance, you know? And I don't know, I wasn't excited over this one...I didn't feel like this one was real."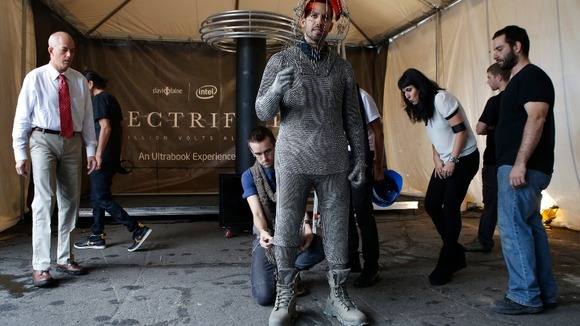 Blaine's last stunt was hanging upside down without a net high over New York's Central Park for 60 hours in 2008. He's also held his breath underwater for 17 minutes and 4 seconds, was buried alive for a week in a see-through coffin and was encased in a block of ice for 63 hours.