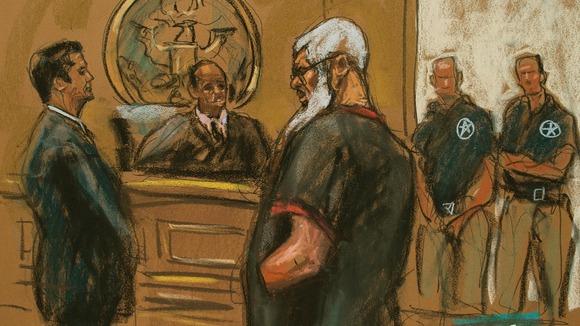 Abu Hamza appeared in a New York court today facing terror charges following his extradition from the UK, but the radical cleric did not enter a plea.
Hamza arrived in court without the hook he uses as a hand, and complained through his lawyer that he wanted it to be given back. The Telegraph is reporting that US officials ordered it to be removed for security purposes. His lawyers asked for the return of his prosthetics, saying they were essential for him to "function in a civilised manner"
The brief hearing ended without him entering a plea.
ITV News' Damon Green reports:
Hamza arrived in the United States along with four other terror suspects early this morning.
The men travelled on two fighter planes which left a military airbase in Suffolk late last night, Home Secretary Theresa May said.
The suspects had made last-ditch challenges against removal from the UK which were rejected by two High Court judges in London yesterday.
Speaking after the US-bound flights had taken off, Mrs May said:
I can confirm that tonight two planes have left RAF Mildenhall to transport Abu Hamza, Babar Ahmad, Adel Abdul Bary, Syed Ahsan and Khalid al-Fawwaz to the US to face trial.

I am pleased the decision of the court today meant that these men, who used every available opportunity to frustrate and delay the extradition process over many years, could finally be removed.

This government has co-operated fully with the courts and pressed at every stage to ensure this happened. We have worked tirelessly, alongside the US authorities, the police and the prison service, to put plans in place so that tonight these men could be handed over within hours of the court's decision.

It is right that these men, who are all accused of very serious offences, will finally face justice.
The terror suspects were transported from HMP Long Lartin in Worcestershire to RAF Mildenhall in a police convoy last night.
Officers from the Metropolitan Police's extradition unit then handed the men to US officials before they were taken aboard the planes which left British soil just before midnight, Scotland Yard said.
Earlier in the day, Sir John Thomas, president of the Queen's Bench Division, and Mr Justice Ouseley rejected an application by 54-year-old Hamza, a former imam at Finsbury Park mosque in north London, to be given time to undergo a brain scan his lawyers said could show he is medically unfit to face trial.
They also threw out challenges by Ahmad, Ahsan, Al-Fawwaz and Bary paving the way for the Home Secretary to give the go-ahead for their immediate extradition.
Ms May has told ITV News that the Government is looking at ways to speed up the extradition process: