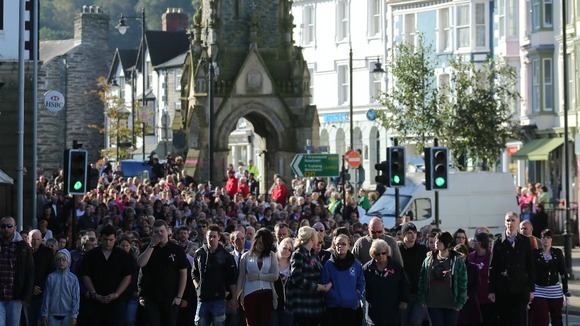 Hundreds came together in prayer in Machynlleth on Sunday for an emotionally charged church service in honour of missing April Jones.
Starting from the Bryn-y-Gog estate where the 5-year-old schoolgirl's family home stands, the procession filed silently to the service.
ITV News's Geraint Vincent reports
Residents came together at St Peter's Church, the spiritual centre of the close-knit community.
The Reverend Kathleen Rogers began the service on a sombre note, telling the congregation:
We cannot bring April, our sweet and innocent little girl, home as we had hoped.

But our hope has now been moved on to the sure and certain hope that she is in the arms of Jesus.
– REVEREND KATHLEEN ROGERS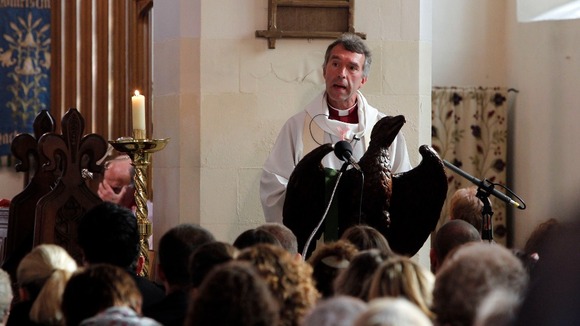 The Bishop of Bangor, the Right Reverend Andrew John, thanked the police and the community for their efforts searching for the missing girl, and urged residents of Machynlleth to stick together "for April".
You have touched the hearts of people across the world.

You have shown resolve, determination and love beyond any expectation.

This is not the end. It is a journey we must take together, fighting the fears, the anger and despair. We want April home.
– The Right Reverend Andrew John

As the search for April continued, Superintendent Ian John renewed his appeal for "any scrap of information" about her whereabouts, adding that the community needed time to grieve
This community needs some space to come to terms with what's happened and to deal with this in their own way.

Inevitably I think the media will withdraw from this and let people go back to their day-to-day lives.
– Superintendent Ian John

During the final hymn in the church service, 'All Things Bright and Beautiful,' donations were collected for the fund set up for April Jones's family.

Former lifeguard Mark Bridger, 46, was charged on Saturday with the abduction and murder of April.

Local man Bridger is also accused of perverting the course of justice and will appear before Aberystwyth Magistrates' Court on Monday.