A £2 billion theme park is coming to Britain to rival Disneyland Paris.
The company behind it says it will create thousands of new jobs, attract more tourists to Britain and help give a much needed economic boost.
The park will be branded by Paramount, after a deal was signed by its licensing division
The site is being planned on the Swanscombe Peninsula in North Kent
It could create up to 27,000 jobs
A study suggests the park will attract significant numbers of additional tourists to the UK
The 872 acre development will transform part of the Swanscombe Peninsula close to the international railway station of Ebbsfleet International.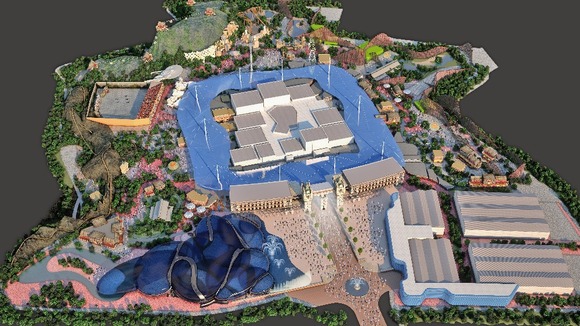 Due to be opened in 2018, the site will have a theme park, indoor water park, theatres, live music venues, cinemas, restaurants and hotels.
Our vision is to create a world class entertainment destination, the first of its kind in the UK. We are at the start of a long journey, but have been encouraged by the support and buy-in we have had to date.

We are particularly pleased with the appetite we are seeing from investors, who consider this a compelling investment proposition. Post Olympics, this is Britain's next major regeneration opportunity.

Over the next 12-18 months we will be progressing the planning application, while embarking on a wide-reaching programme of community consultation, while securing further commercial agreements with third parties.

Our timetable for delivery, including the planning application process and construction timetable, is geared towards completion and opening in 2018.
– TONY SEFTON, PROJECT LEADER FOR LONDON RESORT COMPANY HOLDINGS

The park is similar to one in Spain which is due to open to the public in 2015. A promotional video for the Spanish version shows Britain what to expect.

You've been telling us on our Facebook page what you think about the plans:

Jason Cook: This is a massive idea and a long time over due well done the brains behind this one.

Joanne Lord: Many will look for the negatives... I am sure they are the same people who moan about everything??? Sounds great :-) I will start saving to take my granddaughters :-)

Kelly Hunt: Couldn't kids just have youth clubs back again seeming there's nothing for the youths nah days!!!! Money spent on silly things again :(