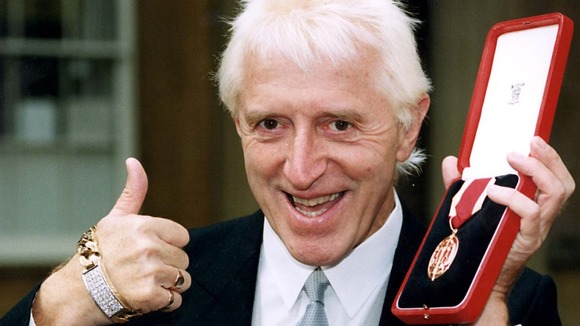 The head of the BBC Trust Lord Patten has ordered an urgent review of the corporation's policies on child protection and sexual harassment in light of the allegations against the late TV presenter Sir Jimmy Savile.
In a letter to the BBC's director general George Entwhistle, he urged the review to ensure that the current policy gives "effective protection to children and minors with whom the the BBC comes into contact".
ITV News' UK Editor Lucy Manning reports:
Earlier, Lord Patten told ITV News' UK Editor Lucy Manning that any inquiry must be independent if it is to be credible.
He also defended the BBC's decision to air tribute programmes despite bosses knowing of a Newsnight investigation into the abuse claims.
Many newspapers were printing "hagiographies" of Jimmy Savile despite being aware of the "rumours" for many years, Lord Patten argued.
It follows a call by Conservative MP Rob Wilson for the BBC to commission a "full, open and transparent investigation" into the allegations surrounding Jimmy Savile.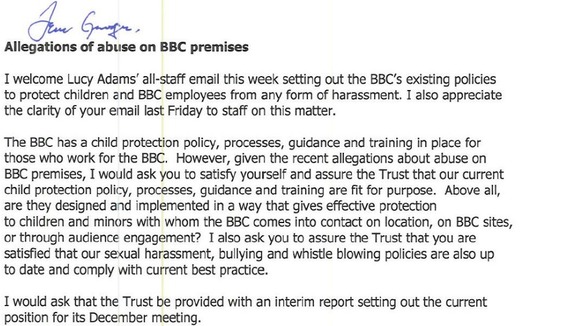 Any investigation by the BBC must wait until the Metropolitan Police is satisfied it has looked into all of the allegations.
Yesterday, Commander Peter Spindler of the Met said that there were currently 120 lines of inquiry being pursued as a result of people contacting the NSPCC hotline, media organisations and other police forces.
He said that eight criminal allegations have been made against Mr Savile, including two of rape, and that police believe there may be as many as 25 potential victims.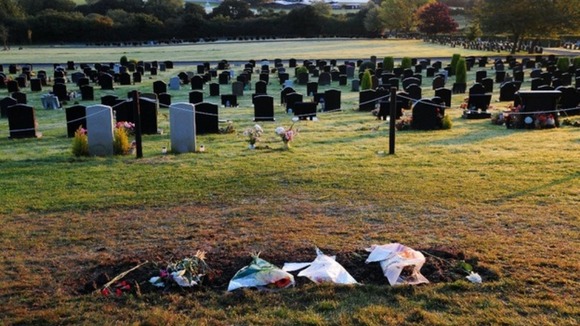 In the early hours of this morning, Jimmy Savile's flamboyant headstone was removed from his grave in Scarborough, North Yorkshire.
The decision to do so was made by Savile's relatives who said it was out of "respect to public opinion" and that they wanted to ensure the "dignity and sanctity" of the cemetery.
A family spokesman said in a statement:
The family members are deeply aware of the impact that the stone remaining there could have on the dignity and sanctity of the cemetery.

Out of respect to public opinion, to those who are buried there, and to those who tend their graves and visit there, we have decided to remove it.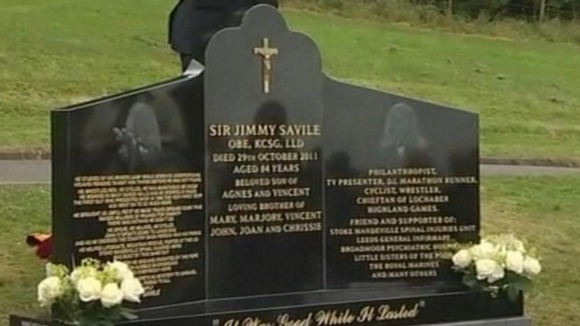 Funeral director Robert Morphet, of Joseph A Hey and Son, said the headstone had been removed "discreetly" in the early hours and had been taken away on a lorry.
He added that the inscription would be ground off and the memorial would then be "broken up and just go to landfill".
Once people got to know that we were actually going to move the stone this morning it became apparent very quickly that it could become quite an issue for families visiting graves so we decided we would do it as discreetly as possible to try and preserve the dignity of the cemetery.

We started at just after 11pm last night and we finished going up to 1am. It was quite a task, certainly it was a very heavy memorial, it's on quite steep sloping ground and of course there's no lights in the cemetery.
– FUNERAL DIRECTOR ROBERT MORPHET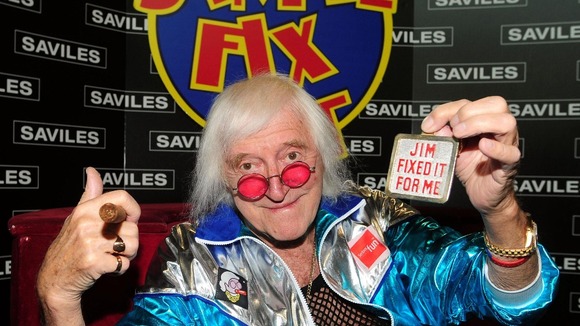 Saviles Hall in Leeds, where an auction of the TV presenter's belongings was held, is to be renamed in the wake of the Savile sex abuse revelations.
A number of other memorials to Savile have already been removed, including an inscription on the wall at Leeds Civic Hall in recognition of his charity work, and a street sign in Scarborough.
A plaque outside his home has been defaced with the words 'paedophile' and 'rapist'..