Wayne and Coleen Rooney expecting second child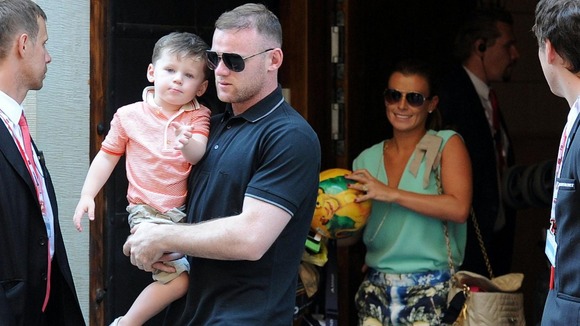 Coleen Rooney has announced that she is expecting her second child with husband Wayne.
The 26-year-old used Twitter to confirm rumours that a new Rooney was on the way:
A few people guessed, so news is out ha!! Me wayne and Kai are thrilled that we are expecting a new addition to our family around May time x
Its still only early but bursting with excitement! Also wanted the news to come from us, before anyone else! ????
Manchester United and England football star Wayne Rooney, also 26, used Twitter to thank his friend Paul Smith for sending his congratulations:
Former United team mate Michael Owen also sent his best wishes:
Didn't think you had it in you to fill another pram @waynerooney !!! Still a couple behind me! Congratulations to you both.
Wayne and Coleen's first son, Kai, was born in November 2009.
The striker has previously spoken about how fatherhood gave him a bigger kick than his football career, describing becoming a dad as the "proudest moment of my life".
He and Coleen were childhood sweethearts and got married in a lavish ceremony in June 2008 when they were both aged 22.
But their relationship has not been without his problems.
Two years ago they were rocked by claims that Rooney had paid a prostitute £1,200 a time for sex while she was pregnant with Kai.
And in 2004 Rooney responded to tabloid claims that he had been to a brothel in his home city of Liverpool by admitting he had visited massage parlours and had sex with prostitutes.