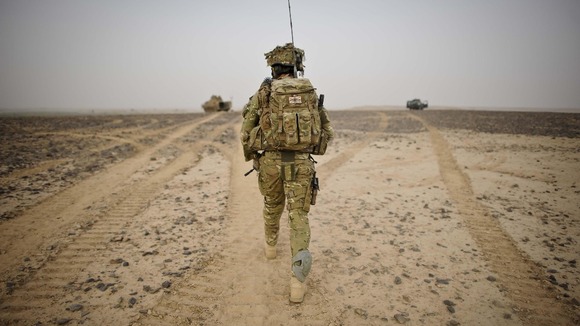 Five Royal Marines have been charged with murder in relation to an alleged incident in Afghanistan in 2011.
The service personnel remain in custody pending court proceedings.
Seven marines had been arrested on suspicion of murder on Thursday, with a further two arrests on Friday and Saturday.
Of the nine that were arrested in total, four marines have been released without charge, pending further inquiries.
The Ministry of Defence (MoD) spokesman said:
The Royal Military Police (RMP) has arrested two further Royal Marines on suspicion of murder in relation to an incident alleged to have taken place in Afghanistan in 2011, taking the total number arrests to nine.Four Marines have since been released without charge pending further enquiries.

The RMP has referred the cases of the remaining five Royal Marines to the independent Service Prosecuting Authority (SPA). Following direction from the SPA these marines have now been charged with murder and they remain in custody pending court proceedings.

It would be inappropriate to comment further on this ongoing investigation
The incident involving the marines occurred in the Nad-e-Ali district of Helmand Province during their tour between March and October last year.
Speaking on the Andrew Marr show Defence Secretary Philip Hammond said:
Everybody serving in theatre knows the rules of engagement, they carry cards in their uniforms with the rules on them in case they should need to remind themselves.

I can't comment on the specifics of this case.

We are very determined that rules of engagement will be followed, that any abuse will be dealt with through the normal processes of service justice and that is happening now.
You can find more information on exactly what the rules of engagement are here.