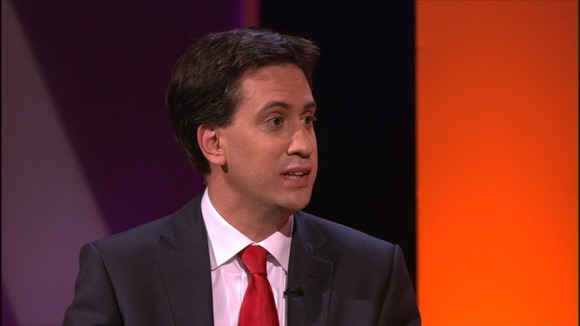 Labour leader Ed Miliband has called for an independent inquiry into Sir Jimmy Savile sex abuse allegations, telling ITV1's The Agenda with Tom Bradby that the public institutions involved including the BBC and the NHS, cannot investigate themselves.
To do right by the victims, I don't think the BBC can lead their own inquiry... I think we need a broader look at these public institutions - the BBC, I'm afraid some parts of the NHS, potentially, Broadmoor.

I'm open-minded about how it's done but it's got to be independent...I'm a great supporter of the BBC but I don't think you can have the BBC board sort of leading its own inquiry.
– Labour leader Ed Miliband

Culture Secretary Maria Miller earlier dismissed demands for an independent inquiry, saying she was "confident" BBC chiefs were taking the claims "very seriously".

Asked whether Savile's victims should receive compensation, the Labour leader replied:
We should be led by the victims in this. I also think about people who are other potential victims of sexual abuse. What message are we sending to them?

This is a very important moment...There are people who have come forward who have had the bravery to come forward...We must send a message to them that it is not acceptable for people to behave in this way and for institutions to at least have some awareness that this going on.So it's for the victims now, potentially other victims in other walks of life and also to prevent it happening again.
ITV News' UK Editor Lucy Manning reports:
Earlier it was announced the BBC Director General George Entwistle will appear in front of MPs on the Culture, Media and Sport committee next Tuesday to answer questions over the corporation's handling of abuse allegations about Sir Jimmy Savile.
Mr Entwistle was due to speak to the committee before the end of the year but the BBC has offered to bring his appearance forward in light of the allegations.