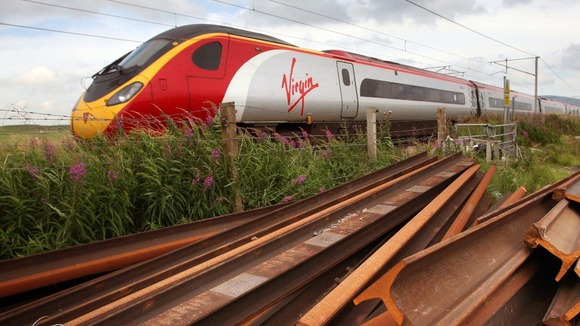 Rail operator Virgin has been asked to continue running the West Coast mainline for another few months. Virgin had been told it would lose the contract in the last bidding process, only for the Government to U-turn after the process was called in to question earlier this month.
The full process to find a new operator for the line will now be re-run with Virgin running the line in the interim.
Transport Secretary Patrick McLoughlin MP told the House of Commons that Virgin will continue to run the West Coast Main Line for the next nine to thirteen months. He said passengers would "see no impact" of the mistakes made by the Government.
Virgin boss Richard Branson welcomed the extension on Twitter:
Our customers have made clear they want us to continue our excellent service and we now have the chance to deliver that and offer customers some short-term continuity.

We will now be working hard to make sure we continue to provide the service that has made us successful. We are grateful for the fantastic support from customers and staff over recent months.
– VIRGIN TRAINS SPOKESMAN

FirstGroup, which had originally won the bidding for the West Coast mainline before the Government's U-turn, issued the following statement after Virgin was offered the extension:
We believe the private sector provides the most effective and efficient way to deliver passenger rail services in the UK. We await the outcome of the independent investigations into the West Coast franchise competition and the wider rail franchising process, which we hope will provide a greater degree of certainty and confidence not only to future bidders but to employees, stakeholders and the travelling public too.
The West Coast mainline fiasco has become a major problem for the Department for Transport and the Government.
A look at how the fiasco unfolded:
In August, the Government announced Virgin had lost out to transport company FirstGroup in the bidding war to run a new 13-year West Coast franchise.
Virgin boss Sir Richard Branson reacted angrily to the decision, branding the bidding process "insane" and launching a legal challenge.
While preparing for the legal challenge, the Department of Transport discovered "significant technical flaws" in the franchise bidding.
Three civil servants are suspended as a result and the bidding competition is halted on October 3, crowning an embarrassing U-turn for the Government.
Transport Secretary Patrick McLoughlin tells a Commons Select Committee he was happy with the way the bidding had been conducted.
Virgin has today been offered an extension to run West Coast services for a "short period" of nine to 13 months while the bidding process is re-run.