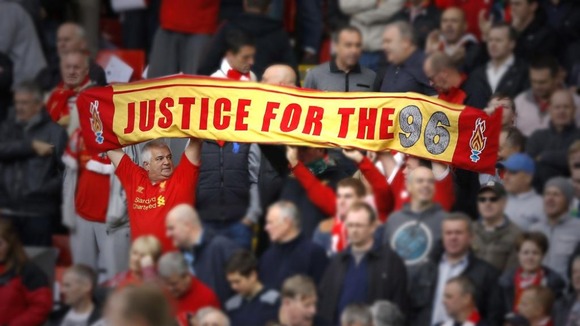 The Attorney General, Dominic Grieve QC, will apply to the High Court for fresh inquests to be made into the deaths of those killed in Hillsborough.
He will apply to have the original verdicts of "evidential death" recorded in all ninety-six inquests to be quashed. He made the announcement in the House of Commons today, saying:
I will apply to have every one of those 96 inquests quashed. I believe that these deaths, arising as they do from a common chain of events, should all be considered afresh. I am convinced that there is a need for fresh inquests.
He warned that the process would take time, as he had to re-examine the evidence, in light of the damning Hillsborough Independent Panel report into the tragedy. ITV News' UK Editor Lucy Manning reports:
The decision was welcomed by the families of those that died, who have always challenged the verdicts of the original inquests.
Pat Joynes, whose son Nicholas Joynes was killed, said today's decision was another important milestone on her long journey to the truth.
Ninety-six people can't die and hundreds injured without someone being held responsible.

It's another milestone yes. The truth, in my opinion, is finally coming out, I'm very pleased.
Amy and Claire McGlone told ITV News they were relieved that their 23 year fight was beginning to get results. Claire said:
We have been fighting this for 23 years and now hopefully the accidental death will be overturned, because obviously it wasn't an accident and we do need some accountability now
The legal process is likely to take some time however, as the Attorney General warned MPs today. Here is the process:
The Attorney General will lodge papers to the High Court, which he warned he is not ready to do at this time, as he wants to gather more evidence from the families
The High Court will then consider the papers, which will take time depending on the evidence, and set a date for an oral hearing
At the oral hearing the High Court will make their announcement - either quashing them or upholding the original verdicts
If the original verdicts are squashed then the High Court will appoint a coroner who will begin the job of setting up new inquests
Margaret Aspinall and Trevor Hicks from the Hillsborough Family Support Group said they were "delighted" the Attorney General had announced he will apply to the High Court to quash the original inquest verdicts.
They said it was important that they had the same legal support afforded to the police officers, and they want the inquest to be held in Liverpool.