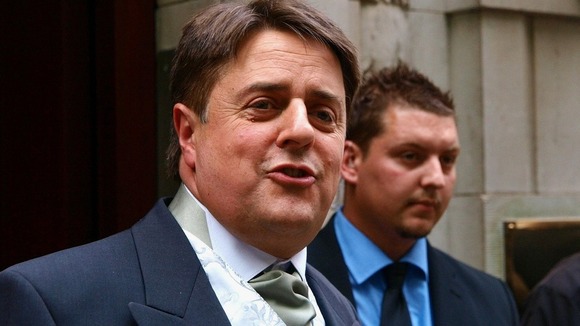 Police are investigating comments made on Twitter by BNP leader Nick Griffin about a gay couple at the centre of a landmark legal ruling.
The MEP published the address of Michael Black and John Morgan on the social networking site and called for a demonstration to be held outside their home.
Cambridgeshire Police were watching the house this morning and confirmed that they were working with Dyfed-Powys Police to investigate the incident.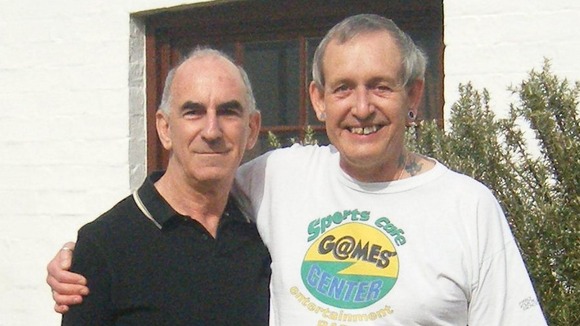 In a series of new tweets this morning, Mr Griffin appeared to make light of the matter, implying that the police were only investigating his comments because gay rights campaigner Peter Tatchell "can claim" to be offended by them.
If you get burgled & police don't want to know, just tweet something Peter Tatchell can claim to be offended . .
..by. Plod will be round in minutes!
His Twitter account seemed to be working normally after is apparent suspension last night.
Mr Griffin confirmed to ITV News that he did send the messages, but said he has "no idea" if his account had been suspended, admitting he was "too much of a technophobe to find out."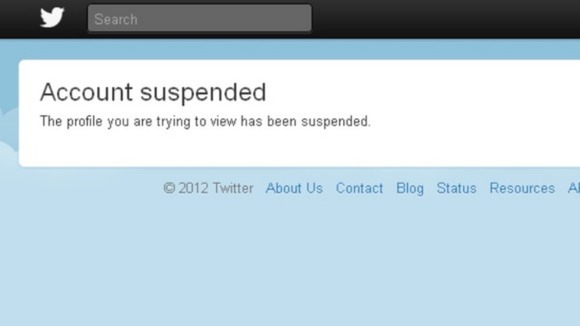 Speaking on BBC Breakfast, Michael Black hit out at Mr Griffin for his comments:
Certainly the public response to the incident, when it happened two-and-a-half years ago, and again in the last 24 hours, has been overwhelmingly in support of our stand against discrimination so hopefully that will mean the vast majority of the people in the country will just see what an idiot Nick Griffin is and reject his views.
– Michael Black

Mr Griffin's tweets followed Mr Black, 64, and his 59-year-old partner Mr Morgan's legal victory against the owner of B&B accommodation who refused to let them stay in a double room.

The couple, from Brampton in Cambridgeshire, sought damages from Susanne Wilkinson after she would not let them have the room at the Swiss Bed and Breakfast in Cookham, Berkshire, in March 2010 despite them having made a reservation and paid a deposit.

A court found Mr Black and Mr Morgan, a computer consultant, were discriminated against and awarded them each £1,800 which the men said would be donated to charity.

After the couple won their court ruling, Mr Griffin tweeted: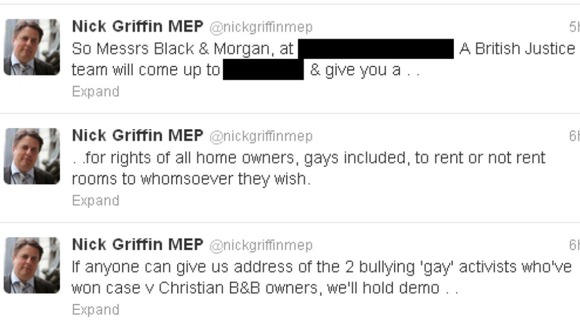 His comments prompted a furious response online, including from the gay rights charity Stonewall:
Shocking that Nick Griffin tweeted home address of gay B&B couple. Reminder of the hatred against gay people that still exists in Britain.
Cambridgeshire Police said they were looking into complaints about comments.
We have received a number of calls in relations to the tweets and are looking into the complaints we have received.

Officers will also visit the men mentioned in the tweets as part of our inquiries.
– Cambridgeshire Police

However, Mr Griffin told ITV News he was not concerned that police are looking into the matter.
Why should I be? If they're daft enough to persecute me for making a stand against the avalanche of leftist persecution of ordinary folk and their traditional freedoms, then the rotten, anti-Christian system they defend will be the loser.
– nick griffin mep