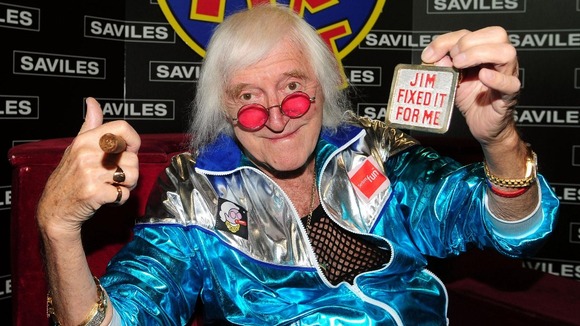 An audio recording of Sir Jimmy Savile describing himself as "crooked" in a newspaper interview given two months before he died has been obtained by ITV News amid rapidly escalating sex abuse allegations against the late TV presenter.
ITV News UK Editor Lucy Manning reports:
A police inquiry into alleged abuse by Savile is now a formal criminal investigation involving other living people, Scotland Yard announced on Friday.
In the newly-uncovered recording, Savile alluded to John Fisher from the Jewish Chronicle that people would eventually find out he was "crooked":
You're a straight punter, I'm crooked.

By the time you've sorted it out, I'm down the road."A lot of people have thought that [I wasn't crooked]. 'And I thought he was straight', they'll say.
ITV News UK editor Lucy Manning has this report:
Operation Yewtree, the inquiry into Savile, has been moved to a criminal investigation after officers established more than 400 lines of inquiry and identified more than 200 potential victims.
Scotland Yard said there are lines of inquiry involving "living people that require formal identification."
Commander Peter Spindler said the scale of alleged abuse was "unprecedented" and involved a "staggering number of victims":
The profile of this operation has empowered a staggering number of victims to come forward to report the sexual exploitation which occurred during their childhood.

I am pleased that victims feel confident enough to speak out about the abuse they suffered and would like to reassure the public that we take all these cases very seriously and they will be investigated with the utmost sensitivity.
The NSPCC said it was possible the late BBC presenter was "one of the most prolific sex offenders" the charity had ever seen.
Peter Watt, head of the NSPCC's helpline said:
It's now looking possible that Jimmy Savile was one the most prolific sex offenders the NSPCC has ever come across. We have received over 136 calls directly relating to allegations against him which we've passed to the police.