South Yorkshire Police have appealed for witnesses and vowed to work with both Leeds United and Sheffield Wednesday to find the supporter who assaulted goalkeeper Chris Kirkland during Friday night's game between the clubs.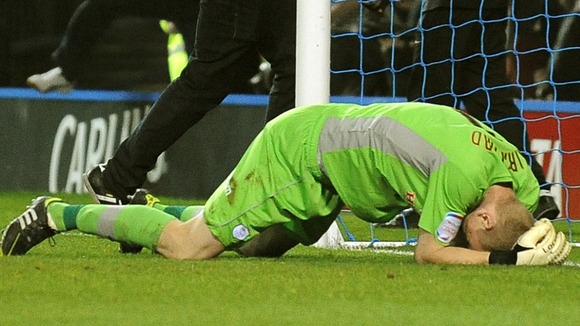 Sheffield Wednesday goalkeeper Kirkland, 31, was shoved in the face by the Leeds United fan who invaded the pitch apparently celebrating Michael Tonge's 77th-minute equaliser.
Kirkland fell to the ground with his hands covering his face and was said to be "sore and dazed" after the incident.
Such incidents are not acceptable and won't be tolerated. We will be working with both clubs to identify and quickly bring to justice the persons responsible.

Thankfully, such incidents are a rarity and we see a minority spoil it for the majority of genuine supporters.
– South Yorkshire Police Chief Superintendent Jason Harwin

The attack was one of many violent and unsavoury incidents during the match at Hillsborough.

Bottles were thrown onto the pitch from the away end, while home fans sang songs about the deaths of two Leeds fans in Turkey in April 2000.

Leeds supporters were also heard singing songs about criminal charges against Wednesday manager Dave Jones that were dropped in 2000, and appeared to herald Sir Jimmy Savile.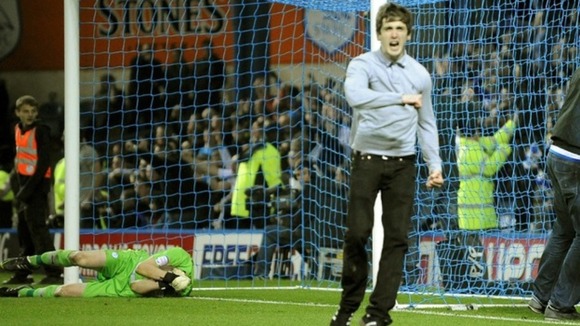 Wednesday manager Dave Jones branded the fans "vile animals" and said they should be "banned from every away ground" in the country.
I'm really sad that we're not talking about the football, but what we saw tonight is unacceptable.

They should be banned from every away ground now. They should be punished. It is just upsetting that they are able to do it.

The authorities have to look at it and sort it. I'm talking about an incident when we should be talking about the football.
– Sheffield Wednesday's manager Dave Jones

Leeds released a statement immediately after the match condemning the action of the supporter who attacked Kirkland and made a public apology.

It said the club will fully co-operate with the police and the football authorities in identifying the person responsible for the attack.

While Leeds manager Neil Warnock also condemned the assault, calling the perpetrator a "moron", he and Jones disagreed over his decision to applaud the Leeds fans after the game.

While Jones said he was "really am fuming" that Warnock sent his players to clap the fans, adding, "For what? Wrecking a stadium, beating up my goalkeeper?", Warnock replied, "I think 99% of our fans were superb".

Footballers on Twitter also reacted to the attack:

Great atmosphere tonight fans were immense! Can I just say the guy that hit Chris Kirkland when he wasn't looking is a coward ! Ye I said it

Got to feel for Leeds fans. 1 idiot gives the rest of them a bad name. Same thing happens when a footballer steps out of line.

Can't believe what I've just seen in the Sheffield wed vs Leeds game!