China blocks Ai Weiwei's Gangnam Style video from websites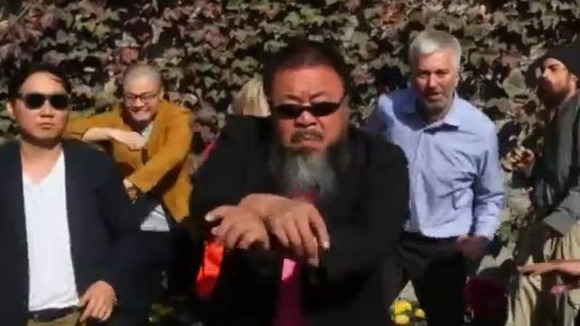 Dissident artist Ai Weiwei has criticised the Chinese government for removing his take on the Gangnam Style video from websites in the country.
In a video posted on YouTube and Chinese websites, the 55-year-old sports a neon-pink T-shirt, black jacket and dark sunglasses and energetically mimics the dance moves made famous by South Korean rapper PSY, whose original video has become an internet sensation.
China Correspondent Angus Walker reports:
He called the video 'Caonima' Style. 'Caonima' means 'grass, mud, horse,' in Mandarin which sounds very similar to a strong curse, and has become a symbol of the online community's defiance of internet censors which remove expletives and other content considered sensitive.
Weiwei and his colleagues uploaded the video to Chinese sites like 'Tudou', an equivalent of the blocked site YouTube, but found that hours later it had been removed.
We only filmed for a bit over ten minutes, but we used a whole day to edit, and eventually put it online at midnight. After we had uploaded it, a few hours later, a few hours after we had started work, we found that a lot of people, tens of thousands, had already watched it. Now in China it has already been totally removed, deleted entirely, and you can't see it in China.

Overall, we feel that every person has the right to express themselves, and this right of expression is fundamentally linked to our happiness and even our existence. When a society constantly demands that everyone should abandon this right, then the society becomes a society without creativity. It can never become a happy society.
Weiwei, an internationally renowned artist and China's most high-profile dissident, has regularly clashed with the country's authorities.
Last month, a court upheld a 2.4 million dollar tax evasion fine against him, ending a long legal battle with the authorities but paving the way for him to be jailed if he does not pay.