Space jump daredevil hits out at Branson's 'insane' idea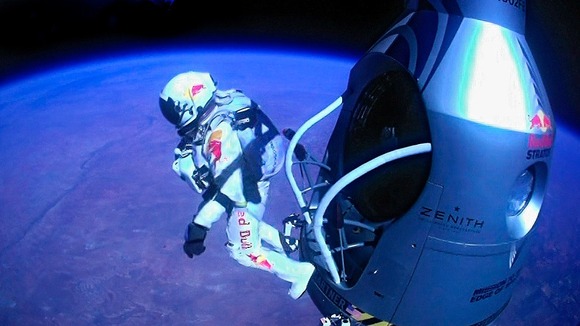 Daredevil Felix Baumgartner, who leapt into the stratosphere from a balloon hovering near the edge of space 24 miles above Earth, has hit out at Sir Richard Branson after the Virgin boss hinted that his company could attempt to break the Austrian's record.
Baumgartner, whose Red Bull Stratos mission was watched by millions, smashed the record for the highest ever freefall when he leapt from 128,100ft above New Mexico.
Watch the jump again here:
Writing in his blog Mr Branson said he was approached by someone in 2005 who wanted to jump 400,000ft from Virgin Galactic's SpaceShipOne.
Back in 2005 we were approached by someone who wanted to hire SpaceShipOne to jump from 400,000ft to beat Joe Kittinger's original record.

The idea was that the spaceship pilot and the jumper would both be in spacesuits and the spaceship would fly up unpressurised.

The pilot would have life support for the return descent and the parachutist would simply jump out at the top of the spaceship parabola.

Such a record is theoretically possible from an unpressurised spaceship with the remaining crew wearing life support.

However, the timing wasn't right as SpaceShipOne was being placed in the Smithsonian Institution, National Air and Space Museum.
Mr Branson added that it "could be fun for Virgin to give Red Bull a run for their money". However, in an interview with the Daily Telegraph, Mr Baumgartner dismissed the comments as some "kind of joke," adding that the idea of someone jumping from that height was "completely insane".
He told the newspaper:
It sounds like kind of a joke because it looks like he wants to use our positive momentum and gain publicity on his side and that is kind of lame.