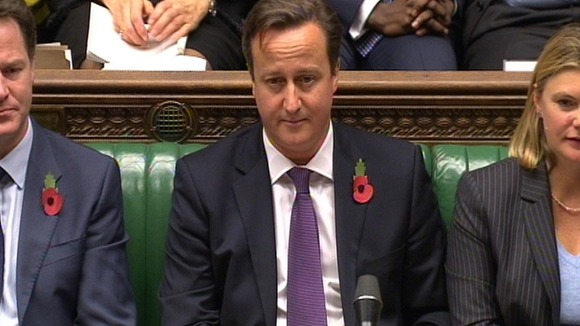 David Cameron was dealt a damaging blow by his own party as Tory rebels combined with Labour to inflict a brusing defeat on his EU negotiating strategy.
A rebel Commons amendment calling on ministers to demand a real-terms cut in the EU budget was passed by 307 votes to 294 - a 13-vote majority.
An analysis of the division list showed 51 Conservative MPs, plus two tellers, defied the party whips to support the amendment.
Video report by ITV News Political Editor Tom Bradby.
The announcement of the result was greeted with loud cheers from the Tory benches.
Although it is not binding - simply requiring ministers to "take note" - the result will embolden Tory Euro-sceptics, threatening to re-open the bitter divisions over Europe which tore apart the party in the 1990s.
Conservative MP Mark Reckless, who put forward the amendment to the EU budget motion that led to the coalition Government's defeat, called it "a victory for parliament".
Among Tory ministers, there was fury at the way Labour had switched position to outflank the Government on its most vulnerable issue.
Ed Balls, Labour's Shadow Chancellor, called the defeat "humiliating" and said it showed "how weak and out of touch" the Prime Minister has become.
We need a real terms cut and reform of the EU budget, but David Cameron is too weak and has failed to build the alliances needed to deliver it.

David Cameron has failed to convince his own backbenchers, just as he is failing to convince other European leaders.

This is a humiliating defeat for David Cameron which shows how weak and out of touch he has become.
– Ed Balls MP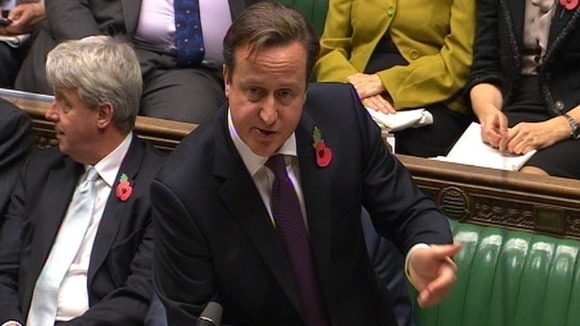 Earlier, at Prime Minister's Questions, Mr Cameron tried to rally his troops, insisting he was taking the toughest line of any British government in the budget negotiations since the UK joined the EU.
"At best, we would like it cut, at worst frozen, and I'm quite prepared to use the veto if we don't get a deal which is good for Britain," he declared to Tory cheers.
He also rounded on Ed Miliband, saying he supported a massive increase in the EU budget under the former Labour government.
The Labour leader retorted that once again the Tories were weak and divided over Europe.
He has thrown in the towel even before these negotiations have begun. He can't convince European leaders, he can't even convince his own backbenchers. He is weak abroad, he is weak at home. It's John Major all over again.
– Ed Miliband MP, Labour leader