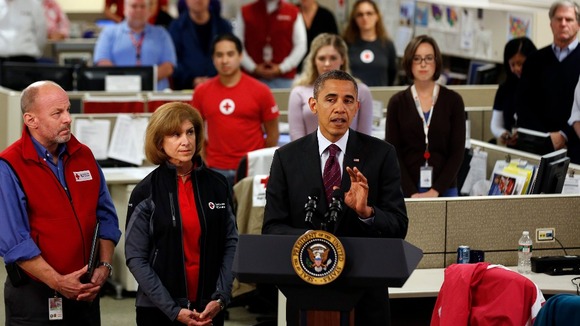 How cynical should we be?
Is this a President doing his job as comforter-in-chief or a man desperate to boost his chances of re-election?
Of course the answer is both.
This storm has broken the heart of communities all along the New Jersey shoreline. Lives have been lost and properties destroyed.
But Sandy came ashore one week before election day. That makes it one of the most politically sensitive storms in US history.
Precisely because Obama and Romney are in a dead heat - the latest poll puts them in a tie at 46% - even a small swing at this stage can make the difference between winning and losing the White House.
So while President Obama will be distressed at the human cost of the storm he also will see this as a political opportunity.
He has had a strong 48 hours, showing clear leadership and a steady hand.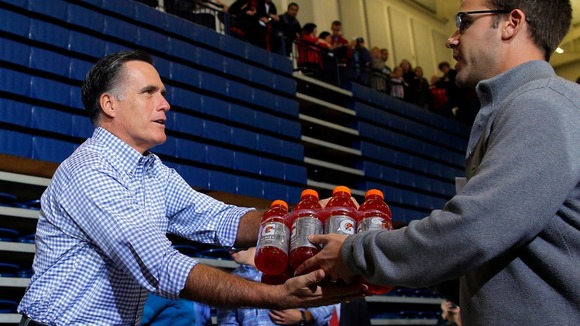 And no less importantly his response to the disaster - yesterday visiting the Red Cross, today on the ground - has allowed him to dominate the headlines. He has taken away all the oxygen from Mitt Romney.
Even more dangerously for the Republican challenger, journalists have recalled that a year ago Romney called for the Government agency for emergencies, FEMA, to be privatised.
This is all powerful ammunition for a battle that is at the heart of the campaign: Is government too big or too small?
Hurricane Sandy would seem to boost the President's central narrative that some things in life are so dramatic - such as natural disasters and emergency healthcare - that government is vital.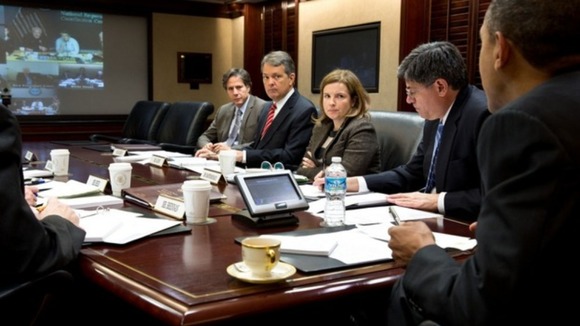 So Obama is doubly likely to "win" the hurricane. He achieves the valuable publicity and scores with the over-arching argument.
Some right-wing commentators have suggested the opposite. They have claimed because millions of Americans are suffering they will feel even more angry with the Government and will therefore vote for Romney. I disagree with that. It ignores the simple fact that Americans rally to the flag in adversity.
President Obama may have been handed a route to victory. I have always believed that President Obama is one of the luckiest politicians.
His route from Hawaii via Indonesia to Chicago, then to the Senate and the White House, required an astonishing run of good fortune.
If he wins re-election because of a once-in-a-generation storm a week before polling - well, that just confirms my suspicion.