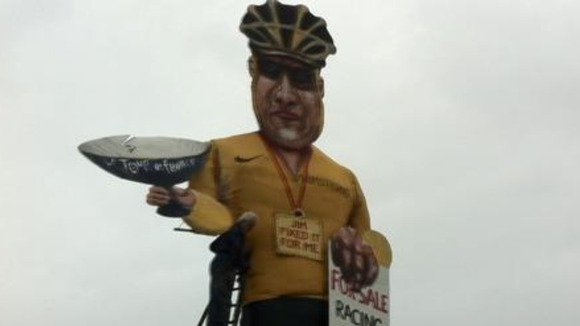 A 30ft effigy of disgraced cyclist Lance Armstrong wearing a Jim'll Fix It badge will be burned in front of thousands of people on Saturday night.
A steel-framed model of the 41-year-old American, who was recently stripped of his seven Tour de France titles for doping offences, will go up in flames as part of a bonfire event in Edenbridge, Kent, renowned for torching famous faces.
The effigy has Armstrong holding a sign saying "For sale, racing bike, no longer required" and wearing the Jim'll Fix It badge round his neck, in reference to Jimmy Savile's suspected widespread child abuse.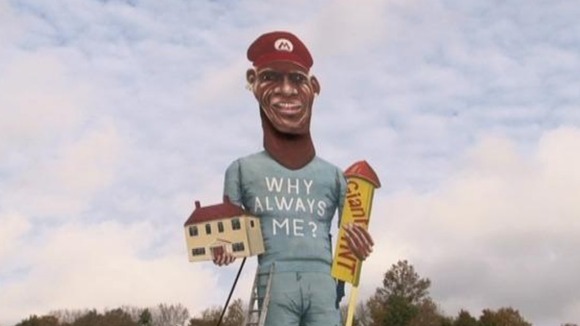 A host of unpopular public figures have gone up in flames as part of Edenbridge's annual celebrations, including Cherie Blair, Katie Price, Jonathan Ross and Mario Balotelli, who was last year's pick after his house caught light when a firework went off in his bathroom.
Society co-ordinator Charles Laver said there was considerable debate between organisers before arriving at Armstrong as this year's choice. He explained:
We had a shortlist which included Jimmy Savile but it was decided it would not be nice to use him as a lot of children attend the bonfire and they might start asking their parents questions.

Then we had George Osborne but he hasn't really got a face that everyone knows and he's just a chap in a suit. We felt he would be a bit boring.

We started to do Abu Hamza but then we decided we weren't entirely happy to do him, so Lance Armstrong came out of the woodwork. He's better because he's brighter... We're very pleased with it.
Visit ITV Meridian for more on the Armstrong burning, including photos of the last five famous effigies.