Around 6,500 retail jobs are under threat as electricals chain Comet became the latest casualty on the high street.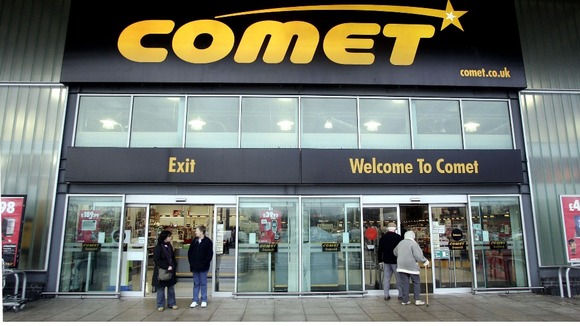 The 240-strong chain confirmed plans for it to be placed into administration next week, marking one of the UK's biggest retail failures in recent years.
Staff were told of plans this morning and restructuring specialist Deloitte has been lined up to handle the administration.
ITV News Economics Editor Richard Edgar reports:
Comet said it is "urgently working" on plans to secure the company's future and it is expected that administrators will seek a buyer for the business.
Customers with outstanding orders and those with gift cards and vouchers are being told it is "business as usual until further notice" and that the group intends to fulfil deliveries of products that have been paid for.
Comet's customer care team is handling any customer inquiries on 0844 8009595.
Comet's history:
Founded in Hull in 1933 by George Hollingbery as Comet Battery Stores Limited
Originally sold charging batteries and accumulators, before moving into the radio rental business
Grew to 2,500 accounts by 1939 and opened its first superstore in Hull in 1968
Acquired by Kingfisher for £129 million in 1984 and increased to more than 250 stores nationwide by 1996
Demerged from Kingfisher in 2003, forming a new group known as Kesa Electricals with its sister electrical companies throughout Europe
Comet employees who are fearing for their jobs took to Twitter after the news:
If your business gets taken over by op capita find another job #comet feel really angry, they just took money and ran !!!_
Hope my job ain't on the line here :/ comet
So will this mean that I have a job to go to on Friday? #Comet
Also on Twitter consumer expert Martin lewis advised customers with Comet vouchers to use them as soon as they could:
Comet gift vouchers/cards may be worthless if it goes into adminstation. For safety spend instore today on things you can take away with you
OK it seems Comet gift vouchers/cards still being honoured. Do go today though - if it goes into admin they're likely to be void
If Comet is not able to fulfil an order, customers whose purchases are valued between £100 and £30,000 and who paid by credit or debit cards, should be able to claim their money back within 120 days. However, those who paid in any other way have no immediate way of getting their money back.
The Retail Trust charity, which provides support for retail staff in the UK, has offered to help Comet's 6,000 employees as the firm faces administration.
A statement on the charity's website advised Comet workers to contact the charity's helpline on 0808 801 0808, email helpline@retailtrust.org.uk or text HELPLINE to 88010 for "free, confidential and independent advice and support for all staff affected by such developments."