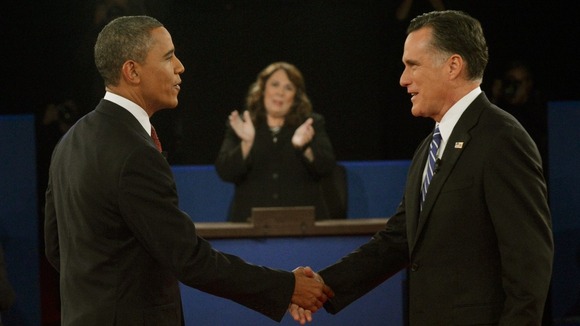 US President Barack Obama and his Republican challenger Mitt Romney have toured swing states on the final day of campaigning in the hope of picking up crucial votes that could propel them towards the White House.
Where the candidates are touring today:
Barack Obama: Wisconsin, Iowa and Ohio.
Mitt Romney: Florida, Virginia, New Hampshire and Ohio.
The two rivals are neck-and-neck in the polls - with Real Clear Politics' national average poll showing a slight lead for Barack Obama in the popular vote.
The President also holds a slight lead in the eight or nine battleground states that will decide the outcome of the election.
ITV News' Washington Correspondent Robert Moore said the key to victory appears to lie with Florida and Ohio.
Out of the four Florida polls released today, two suggest Romney will win, while the other two are backing Obama for the sunshine state.
The picture looks clearer in Ohio, where the President is leading in both polls released today.
No Republican candidate has ever made it to the White House without winning Ohio's 18 electoral college votes.
The importance of that state has reportedly led Romney to consider a last-minute visit to Ohio tomorrow in a bid to pick up extra votes.
ITV News' International Editor Bill Neely reports:
Michael Barbaro, The New York Times' political reporter, tweeted that the potential visit "may not happen" because of logistical difficulties.
Solid source inside Romney camp says Ohio visit may not happen. Logistics very complicated....
Another key swing state in the election is Virginia, which had been solid Republican territory up until 2008 when Obama prised it away from the Grand Old Party.
ITV News presenter Mark Austin met voters from Virginia - a state Romney needs to win.
Bruce Springsteen travelled with Obama to his three campaign rallies today and performed for the crowds.
Springsteen - known as 'the boss' - performed several of his songs including Land Of Hope And Dreams.
The President robustly defended his record in office to the 18,000 crowd in Wisconsin.
I said I'd end the war in Iraq and I ended it. I said I'd pass health care reform, I passed it. I said I'd repeal don't ask, don't tell, we repealed it. I said we'd crack down on reckless practices on Wall Street, we did.

So you know where I stand, you know what I believe, you know I tell the truth and you know I'll fight for you and your families every single day as hard as I know how, you know that about me.
– Barack Obama

ITV News' Washington Correspondent Robert Moore reports:

Former Massachusetts governor Romney - who would become the first Mormon president if he wins tomorrow - started the day campaigning in Florida.
One final push is going to get us there.

We're only one day away from a fresh start, one day away from the start of a new beginning.
– Mitt Romney

The race between Obama and Romney has cost approximately $2 billion (£1.2 billion) - the most in US history - with both sides spending heavily on television adverts in swing states.

The balance of power in Congress will also be at stake tomorrow, with the Democrats expected to narrowly hold their Senate majority and the Republicans favoured to retain control of the House of Representatives.