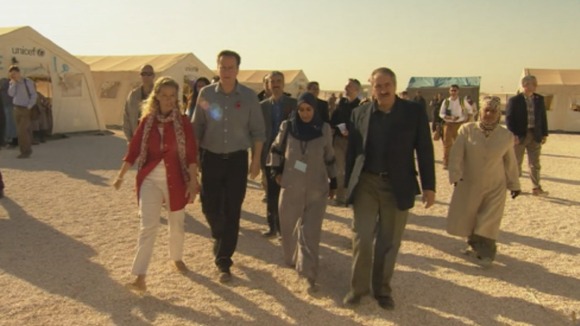 Prime Minister David Cameron has said Syria's President Bashar al Assad should face "full international justice" for the "appalling crimes he has meted out on his people".
Mr Cameron said his determination to remove Assad from power was strengthened after hearing the "horrendous" stories of refugees at a UN camp in Jordan who had fled the conflict. International Correspondent John Irvine reports.
Mr Cameron vowed to help the Syrian people, especially those "fleeing the most appalling persecution and bloodshed".
Standing at the border, where around 500 Syrian refugees cross into Jordan every night, the Prime Minister said, "We have got to do more".
I wanted to hear for myself the stories of people who have been bombed and shot and blasted out of their homes in Syria by a deeply-illegitimate and unpleasant regime that is raining down death and destruction on its own people.

It is truly horrendous to hear those stories and just redoubles my determination that now, with a newly-elected American president, we have got to do more to help this part of the world, to help Syria achieve transition.
– Prime Minister David Cameron

Mr Cameron also pledged to increase humanitarian aid for the crisis by £14 million.

At present 2.5 million people inside Syria need humanitarian assistance and the number of refugees in the surrounding region is predicted to almost double to 710,000 by the end of the year.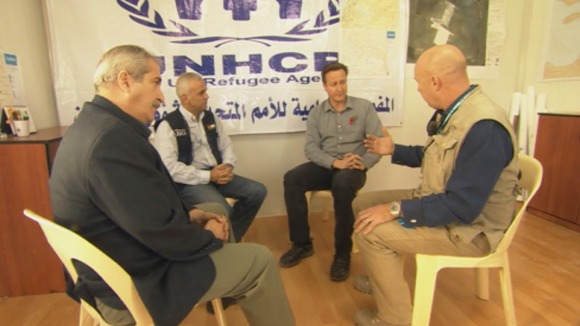 Of the new aid money, £9.5 million will go on blankets, soap and food for those Syrians forced out of their homes and on emergency help for the 8,300 Palestinian refugees based in Syria.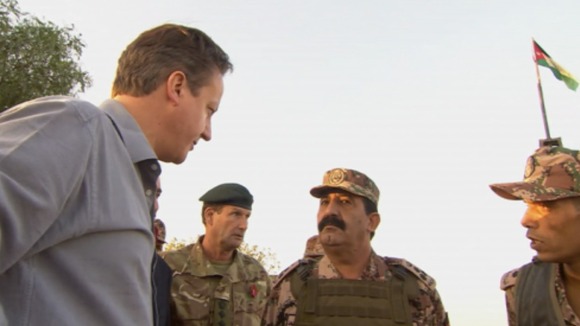 Back in the UK, Parliament received a written statement from Foreign Secretary William Hague, announcing he has given the green light to British officials to arrange talks with Syrian rebel military leaders.
Mr Hague stressed it is a recognition that events are increasingly dictated by the military figures rather than the splintered political groupings, who met in Qatar this week in an effort to forge an alliance against Assad.
.@williamjhague: This includes the provision of technical, non-lethal equipment such as radios and emergency power generators. #Syria
The Foreign Secretary's statement to parliament said the talks in Qatar were a way of attempting to ensure some kind of cohesion within the factions.
The decision to engage with military representatives of the armed opposition in a political dialogue supports our efforts to achieve a peaceful and sustained political solution to the crisis.
Mr Hague said all meetings would only take place in "suitably secure" environments that are "outside Syria".