The Prime Minister has warned of the dangers of a 'witch-hunt' against gay people as a result of child abuse allegations circulating online.
He raised his concerns after being presented with a list of Conservative names identified on the internet as alleged abusers, by presenter Phillip Schofield, live on ITV1's This Morning.
Visibly shocked, Mr Cameron said:
There is a danger if we are not careful that this can turn into a sort of witch hunt, particularly about people who are gay, and I'm worried about the sort of thing you are doing right now, taking a list of names off the internet.

If anyone has any information about anyone who's a paedophile, no matter how high up in society they are, that is what the police are for.
Deputy Political Editor Chris Ship reports:
Mr Cameron added: "I've heard all sorts of names bandied around and what then tends to happen is everyone sits around and speculates about people, some of whom are alive, some of whom are dead.
The Prime Minister also said the allegations being made were "extremely serious" and the Government, which has instigated inquiries this week into the North Wales care home scandal in particular, had "moved quickly to try to get to the bottom of what they are".
He added:
If you've got any information, we are a civilised, democratic country under the rule of law, with a police force, with a justice system - go to the police
Phillip Schofield later apologised for handing the Prime Minister the list which was accidentally exposed to the cameras in a way which meant it was visible to viewers.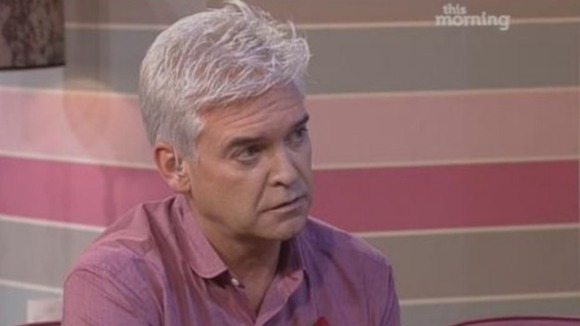 If any viewer was able to identify anyone listed, I would like to apologise and stress that was never my intention.

I was not accusing anyone of anything and it is essential that it is understood that I would never be part of any kind of witch hunt.

Unfortunately there may have been a misjudged camera angle for a split second as I showed the Prime Minister some information I had obtained from the internet.

I asked for his reaction to give him the opportunity to make a point which he very clearly made about the dangers of any witch hunt.
The Conservative MP, Rob Wilson, has called for an on-air apology from the presenter
In a statement, a Downing Street spokesperson said:
The Prime Minister has taken necessary and serious action into the child abuse allegations.

But he is also concerned about a separate issue where people are facing an internet witch hunt.

It's important allegations are handled properly and people's reputations are not unnecessarily smeared.