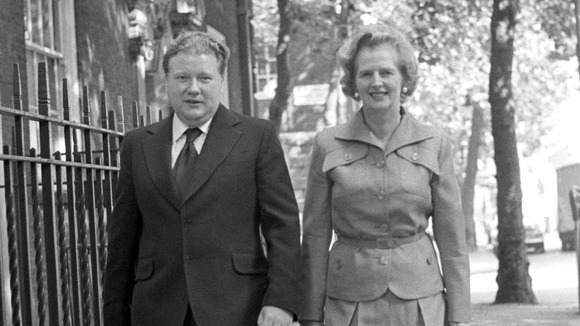 Lord McAlpine, a former Tory treasurer and deputy chairman, will take legal action against "all media" who have defamed his reputation.
The planned legal action comes after he issued a public statement earlier today denying the "wholly false and seriously defamatory" claims against him.
The 70-year-old peer has been subject to a frenzy of online speculation that he was the senior Conservative from the Thatcher era involved in child abuse in care home around Wrexham, North Wales. Juliet Bremner reports:
Lord Mc Alpine warned in a statement that he had not given up his right to sue those who defamed him in the recent past, and said he was "entirely willing" to meet the police so they can eliminate him from their investigations.
He said "ill or misinformed commentators" had used the internet to identify him "as this guilty man" and accused the broadcast and print media of defaming him "by innuendo."
There is a media frenzy and I have to expect that an editor will soon come under pressure to risk naming me. My name and the allegations are for all practical purposes linked and in the public domain and I cannot rewind the clock.
– Lord McAlpine statement

He issued a categorical denial of the allegations whispered against him:
I have never been to the children's home in Wrexham, nor have I ever visited any children's home, reform school or any other institution of a similar nature.

I have never stayed in a hotel in or near Wrexham, I did not own a Rolls Royce, have never had a 'Gold card' or 'Harrods card' and never wear aftershave, all of which have been alleged.

I did not sexually abuse Mr Messham or any other residents of the children's home in Wrexham.
This Morning presenter Ruth Langsford read out an apology from Phillip Schofield after he presented the Prime Minister with a list of alleged child abusers live on air yesterday.
Schofield was absent from today's edition of This Morning as he and co-host Holly Willoughby hand over presenting duties to Eamonn Holmes and his wife each Friday.
Prime Minister David Cameron told ITV News earlier today it was important for proper evidence to be presented, before allegations were made:
We have to be very careful before casting aspersions upon individuals, and bandying people's names around, without proper evidence. And I think every institution, every journalist and every politician needs to think carefully about those things, and what is being said.