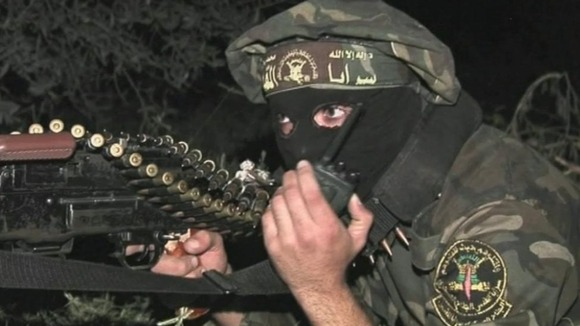 Israel officials have warned of a tough response after a barrage of Palestinian rockets fired from the Gaza strip struck southern Israel.
The Israeli army responded by launching strikes on three sites across Gaza. The recent clashes have killed six Palestinians, including four civilians, and 40 have been wounded, according to the AP.
Middle East Correspondent John Ray reports from Gaza:
The EU's foreign policy chief, Baroness Catherine Ashton, has condemned the latest escalation of violence and called for both sides to "refrain from escalating the situation."
Baroness Ashton reiterated her support for a two-state solution and the ongoing peace efforts by Egypt:
I am very concerned by the latest escalation of violence between Gaza and Israel. I condemn the firing of rockets and mortars into Israel, and call on both sides to refrain from exacerbating the situation.

Further regrettable loss of life and injury must be avoided. I support the mediation efforts by Egypt and reiterate that there is no place for violence in the Middle East. It is only through resumed negotiations that the legitimate aspirations of both Palestinians and Israelis will be met, through a two-state solution.
Foreign Secretary William Hague voiced his concerns, calling for "all sides to demonstrate restraint":
I am very concerned by the violence in Gaza and southern Israel, and the reported death of a number of civilians, including a child, in Gaza. I condemn the indiscriminate firing of over 100 rockets into Israel by Gaza-based militants. The UK supports the Egyptian Government in its efforts to achieve a ceasefire. All sides need to demonstrate restraint to prevent a dangerous escalation that would be in no one's interests
Israel also fired across its border with Syria today, destroying a Syrian armoured vehicle, in retaliation after a mortar shell landed on its territory.
The Israeli military had though the mortar fire on its territory was a spillover from the intense fighting between President Assad's army and rebel forces trying to oust him, and not a covert attempt to hit the Jewish state. An official said:
We thought it was spillover, but today we're not sure.