Pistorius inspires the next generation
The Paralympic gold medallist Oscar Pistorius has been awarded an honorary doctorate by the University of Strathclyde for his outstanding commitment to sport.
The 25-year-old said the graduation ceremony in Glasgow "capped off an amazing year".
The South African sprinter became the first double leg amputee to compete in both the Olympic and Paralympic Games when he competed at London 2012.
The sprinter who is nicknamed "The Blade Runner" met patients and staff at the University of Strathclyde's National Centre for Prosthetics and Orthotics.
He told ITV News' Scotland Correspondent Debi Edward the Paralympic movement "is definitely growing and the interest in the movement is becoming greater and greater":
One disabled athlete inspired by Pistorius is Adam Donnachie, a swimmer:
It was the time of my life getting to meet him, a dream come true. He's my hero because he just never gives up.

Meeting him was the best thing that's ever happened to me.

I swim with Scotland just now, we train four times a week, and I'd like to follow in Oscar's footsteps by going to the Paralympics.

It's one of my goals to make it to Rio in 2016.
– Adam Donnachie, swimmer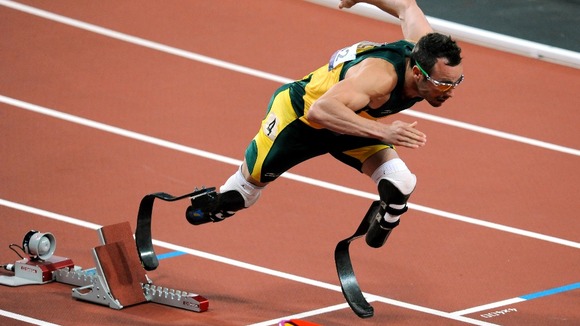 Pistorius reached the semi-final of the 400 metres in the Olympics and formed part of South Africa's 4X400 metres team who came eighth in the finals.
He carried South Africa's flag during the opening ceremony of the Paralympic games. He went on to win gold in the men's T42-T46 4x100 metres relay and in the T44 men's 400 metres.
He also picked up a silver in the T44 men's 200 metres losing to Brazil's Alan Oliveira.