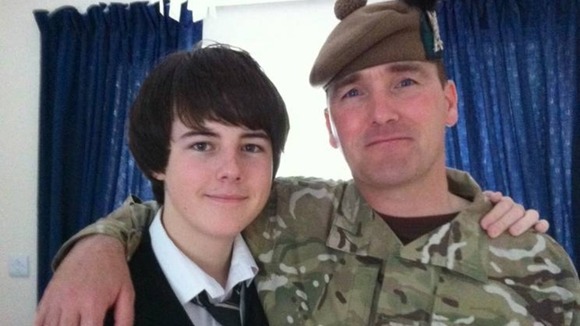 Tributes are being paid to a soldier from the Royal Scots Borders who was killed by a member of the Afghan National Army on September 11th.
The Ministry of Defence has confirmed that Captain Walter Barrie was involved in a football match between British soldiers and members of the Afghan Army when he was shot at close range.
He leaves behind his wife Sonia and their 15-year-old son Callum. Sonia said her husband was "a great man, a doting and amazing father and a fantastic husband".
Captain Barrie was on his second tour of duty of Afghanistan. During a distinguished career he served in Iraq, Bosnia, Kosovo and Northern Ireland.
He trained soldiers at the Royal Military Academy Sandhurst and the Army Training Regiment Glencorse.
He was a Football Association trained coach and an avid Rangers fan.
"His love for his family is well known and my thoughts go out to them at this difficult time as well as to his wider family and friends. Walter and I recently enjoyed his second passion and that was watching his beloved football team Rangers just before we deployed. This was a regular meeting for us both with our sons.

"Walter was a complete professional and dedicated to his profession. He had a natural, exceptionally sharp wit, which was enjoyed by all and he enjoyed nothing more than some 'banter' with the Jocks when the situation allowed.
– Captain Bob Stuart MBE, The Royal Scots Borderers
It was evident that experience and professionalism flowed though him. His calm, thoughtful approach inspired confidence in others. In the short time we knew him we learnt a huge amount from him. He was a genuine pleasure to work with and be around.

Every day he could be seen running around the FOB at a pace that most private soldiers would struggle to keep up with. His love of football was obvious to all.
– Lieutenant Colonel Philip Kimber MBE, Commanding Officer 1st Battalion The Mercian Regiment