Young swimmer 'stunned into silence' by Pistorius visit
A young disabled swimmer who wants to compete in the 2016 Paralympics was given the ultimate vote of confidence today by his sporting hero Oscar Pistorius.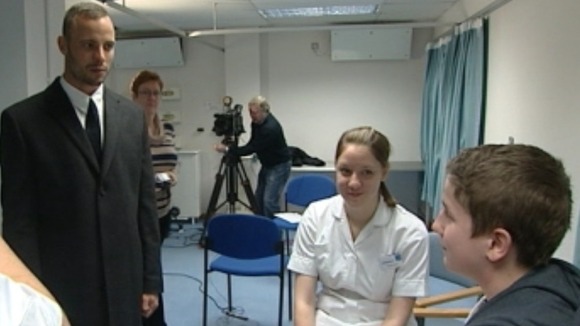 11-year-old Adam Donnachie from Hamilton in South Lanarkshire was born with both his lower legs missing. He currently trains four times a week with the Scottish junior disability swim team.
He met Pistorius as he toured a prosthetics centre at the University of Strathclyde, where his parting words were "I'll see you in Rio."
It was the time of my life getting to meet him, a dream come true. He's my hero because he just never gives up. Meeting him was the best thing that's ever happened to me. I swim with Scotland just now, we train four times a week, and I'd like to follow in Oscar's footsteps by going to the Paralympics. It's one of my goals to make it to Rio in 2016
– Adam Donnachie

Adam's grandmother, Nina Reeves, said Pistorius became an important role model, because her grandson has two prosthetic limbs as well - in the same place. He was so surprised by today's visit that the 11-year-old was "stunned into silence".
If there was only one person in the world that Adam could meet, he would have chosen Oscar," she said. He's followed him ever since he came on to the scene... Most of the people he meets at the clinic only have one [prosthetic limb] and they are normally a bit older, so he can really relate to Oscar.
– Nina Reeves

Pistorius will gett back on the track in the next two weeks, to start training for the 2013 season. He will also compete in the 400 metre event at the Glasgow 2014 Commonwealth Games.