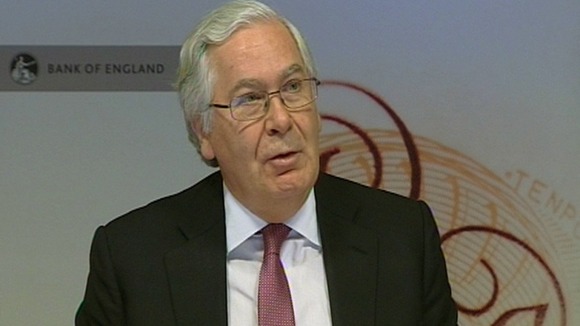 The Bank of England has warned that economic growth will remain below pre-financial crisis levels for at least the next three years, and could shrink in the final three months of the year.
The Governor of the Bank of England delivered his gloomy outlook as he presented the Bank's latest quarterly inflation report. Economics Editor Richard Edgar reports:
The economy grew 1% in the third quarter, bringing the longest double-dip recession since the 1950s to a close, but experts warned the underlying picture was bleak.
Sir Mervyn said the figures gave an "overly optimistic impression" and were not "a reliable guide to the future". He said:
Continuing the recent zig-zag pattern, output growth is likely to fall back sharply in the fourth quarter as the boost from the Olympics in the summer is reversed - indeed, output may shrink a little this quarter.
Sir Mervyn said student tuition fees and rises in energy bills were to blame for rising inflation, and said he expected inflation to fall back towards the Government's 2% target later than expected.
Labour said today's "sobering report highlighted the Government's "failing policies"
This sobering report shows why David Cameron and George Osborne's deeply complacent approach to the economy is so misplaced. Their failing policies have seen two years of almost no growth and the Bank of England is now forecasting lower growth and higher inflation than just a few months ago. The complacent thing for the Government to do now is simply sit back and hope things will get better, but the cautious approach would be to act now to secure and strengthen our economic recovery. Britain needs a plan to create the jobs and growth we need to get deficits down.