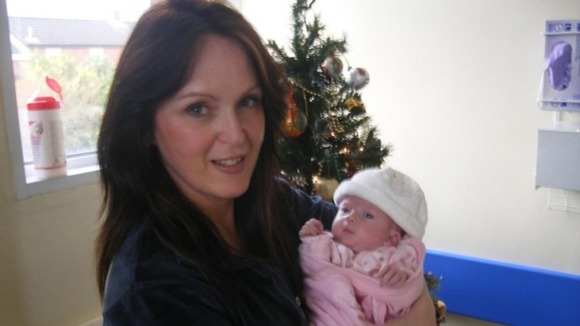 There were "serious failings" in the treatment of a one-year-old girl who died following open heart surgery, a coroner has ruled.
Hayley Fullerton died at Birmingham Children's Hospital just a month after her first birthday after undergoing corrective surgery for a heart condition.
She died on 11th November 2009, 12 days after being transferred from the hospital's intensive care unit to a general ward.
Ruling that the failings in Hayley's care were serious rather than gross, Coroner Aidan Cotter said he could only make a finding of neglect if there had been a "gross" failure to provide medical attention which had a sufficient causal connection to the death.
Paula Stevenson, Hayley's mother told ITV News she was "shocked" by the coroner's verdict that there were "serious failures" but not "gross" failures by the hospital.
Ms Stevenson, also called for the NHS to set up rapid response teams to give patients' families a right to an urgent second opinion.
Today is Hayley's day - I have been waiting three years to speak up.

Hayley died like an abandoned animal - nobody listened to me while Hayley was dying and nobody listened to me when Hayley was dead.
– PAULA STEVENSON, HAYLEY'S MOTHER

In a statement issued after the coroner's verdict, the Birmingham Children's Hospital NHS Foundation Trust said:
When Hayley died we recognised that some of her care fell below our usual high standards and for this we offer a heartfelt apology for the distress that has been caused.

We've taken all the steps possible to learn from this.

We've gone beyond the recommendations of our investigation and improved the way we do things to ensure that no children or families experience anything like this again."
– BIRMINGHAM CHILDREN'S HOSPITAL STATEMENT

Ms Stevenson, has instructed lawyers to proceed with civil action against the trust which runs the hospital.

Mandy Luckman, a specialist medical lawyer who is representing the family said:
Given the trust has now admitted full liability, there needs to be an urgent review to determine whether the system failings put to the trust during the inquest, and as accepted in the trust's own internal investigation report, have now been remedied.
Although nothing can turn back the clock for Paula and her family, who continue to suffer the most unimaginable heartache, they are determined that Hayley's death will not be completely in vain and will hopefully create a catalyst for change in the NHS.