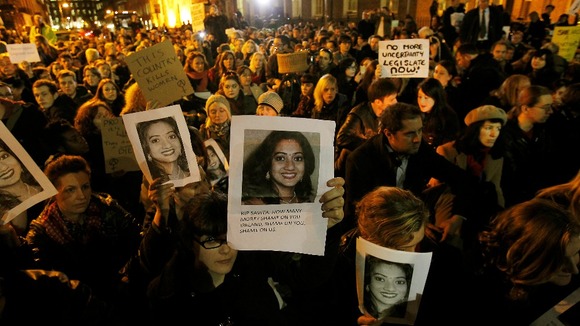 The death of a 31-year-old woman during a miscarriage in Galway, Ireland, has sparked a wave of protests across the country, putting the Irish government under heightened pressure to reform the law on abortion.
Savita Halappanavar, a dentist from India, was 17 weeks pregnant when she died from septicaemia during a miscarriage. Her husband says doctors refused several requests for an abortion because the foetus's heartbeat was present.
Social Affairs Editor Penny Marshall reports:
Mr Halappanavar claimed that following his late wife's appeals, they were told: "This is a Catholic country."
In an interview with RTE Radio's News At One he said his wife was "so excited to be pregnant" and problems only began to emerge on October 21, a week before Savita died on Octover 28. He said:
I was called in, and I could see Savita in tears, in shock, and she told me it was a cervical dilation, and... they don't think the baby can survive, and there was no way to go about that.

And he said unfortunately, I am sorry, we can't save the baby.
Taoiseach Enda Kenny said the Government will respond by the end of the month to an unconnected 2010 European Court of Human Rights (ECHR) ruling that called for reform of abortion law. He said:
This is a tragic case where we have a woman who lost her life, her child is lost and her husband is bereaved. We have agreed to be in contact with the court by November 30.
Two investigations into Mrs Halappanavar's death have been launched by the Galway-Roscommon University Hospitals Group and the country's health chiefs.
Tonight the streets surrounding the Irish parliament were shut down and traffic ground to a halt during rush-hour as around 2,000 demonstrators held a candle-lit vigil for Mrs Halappanavar