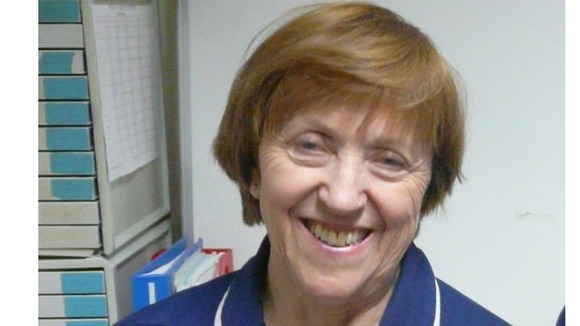 The woman believed to be the UK's longest service nurse is about to retire aft 56-years.
Jean Colclough began working as a nurse at the age of 18 in 1956, the year of the Suez crisis and when Elvis Presley entered the US chart for the first time with Heartbreak Hotel.
Her wages then were £260 a year and, although times have changed, she says her love for the job has never been diminished.
As she stood down from her role at Southend Hospital, the 74-year-old said:
My retirement letter was the hardest I have ever had to write. I was on my own and just sat there and grizzled. I would happily stay on.

Fifty-six years is a long time. Just stopping is not going to be easy. I would certainly consider coming back on the bank. But first we have to move house.
Colleagues say Jean has "twice the energy of those half her age" and she is only retiring because her pension entitlement would suffer if she stayed on.
Her incredible career is made even more impressive by the fact that she had a lung removed in 1960 and was not expected to live past the age of 40.
Jean had originally wanted to train as a doctor but her parents could not afford the university fees.
She says has no regrets:
I don't think I could have done better than I have done. It's been lovely - every ward I worked on was the best place I had ever been.
In November 1982, Jean was promoted to night sister and estimates she walks hundreds of miles each year along the Essex hospital's corridors.
Jean will be so greatly missed, and I wish I could clone her - and bottle her energy."A spokeswoman for the hospital said: "We have heard of other nurses who have clocked up 50 years - but not 56.
– Hospital discharge co-ordinator Sandra Steeples