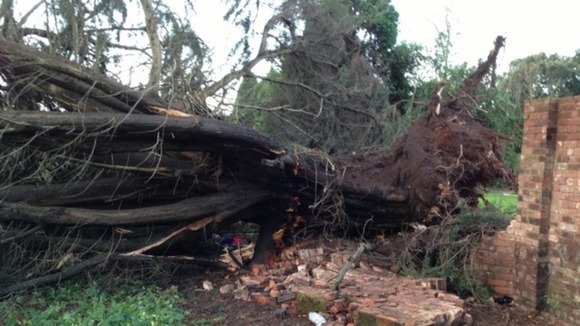 A woman has died and two others were seriously injured after a tree fell on them last night as floods and high winds battered much of the UK.
The three were injured when a large spruce tree collapsed on to Western Way in Exeter at 11.50pm. The woman, who was reportedly in a tent at the time of the accident, was trapped under the tree, and taken to hospital where she later died, Devon and Cornwall police said. Ria Chatterjee reports:
People were forced to flee their homes as flood water and torrential rain caused "serious threats to live" in villages across Cornwall.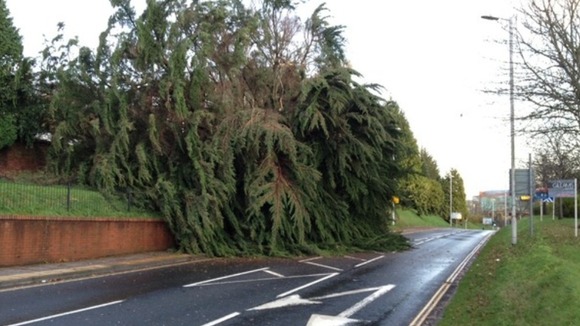 The M25 has been shut between junction 25 and 26, and many smaller roads have been closed across the region as highways became impassable because of rain and debris.
Read the latest from ITV Westcountry here.
Inspector Andrew Webber of Devon and Cornwall Police said the woman who died was 21 and had been living in a small tent sheltered against the wall at the roadside when the tree fell on it, and that she died almost immediately. Mr Webber told Sky News:
Obviously we've had lots of heavy weather, it's been raining an awful lot, and the tree for whatever reason came down. It's taken a wall with it when it came down and then on top of that the tent was underneath and the tree has fallen onto the tent. There are two males involved with minor injuries and obviously a poor lady of 21 who received fatal injuries at the time.
He said officers were on the scene almost immediately, but there was very little that could be done for the woman and that her injuries were fatal "almost instantaneously".
David Cameron said he was "shocked" by the scenes, and pledged that the Government would ensure the victims would get help.
Shocking scenes of flooding in Cornwall and around the country. Govt will help ensure everything is being done to help.