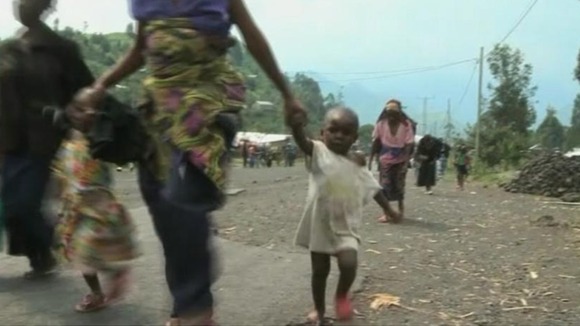 Rebel fighters in Goma have consolidated their positions in the hills surrounding the city of Goma, as their leader flew to Uganda for peace talks.
Rebel M23 fighters captured Goma last week, eight months into a insurgency the United Nations say is backed by Rwanda, after Congolese soldiers withdrew, and the world's largest peacekeeping force gave up defending the city.
Thousands of civilians have been forced to flee the city, raising fears of a worsening refugee crisis.
There have been a number of large scale protests against the government and the United Nations by people furious at them for failing to stop the rebels' advance.
Africa Correspondent Rohit Kachroo reports from Goma:
Congolese President Joseph Kabila met M23 rebels for the first time at the weekend after a summit in Uganda where regional leaders gave M23 two days to leave Goma, but gave no specific consequences. United Nations experts also accuse Uganda of backing the rebels, an allegation Uganda denies.
Rebel leader Colonel Sultani Makenga is on his way to Kampala for talks, but rebel leaders say they have no intention of withdrawing from Goma, and are taking positions across Sake.
A rebel spokesman told Reuters:
We're not refusing to leave it, if the security of the population can be guaranteed. But who is going to protect 1 million people. MONUSCO? The armed groups in the town hiding? We are the protector of the people.
MONUSCO is the name of the UN peacekeeping mission in Congo. France described its decision to stop defending Goma, the provincial capital of North Kivu, as "absurd".
Congo has said it will not negotiate with the rebels until they pull out of Goma, but the rebels said the government was in no position to set conditions on peace talks.