Robbie Williams to tour Europe with Olly Murs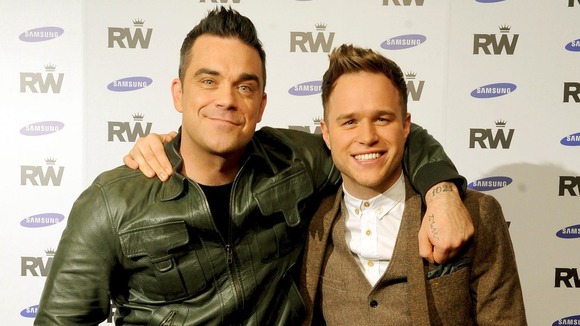 Robbie Williams will embark on a 17 date European stadium tour next year, supported by Olly Murs.
The tour will be his first solo tour since 2006, and the first since he has become a father. He said he wants the tour to "seal his place in pop history". He said:
I'm buzzing. I'm ready to go. I haven't done a tour of this size since 2006. I believe that I'm at the place in my career where it's time to put my foot down and go 'This is what I do'. It's legacy time for me. Pop stars cease to be pop stars when they hit 40. Then they become old people who sing.
The former Take That wild man said next year's tour would be "a lot calmer" than previous tours as he intends to take his new baby daughter with him. He said:
Perhaps I will be a bit more calm. She's a very, very calming presence. he's coming with us, of course. It probably means I'll get more sleep because she's there, not less because she's there... She's rounding off my rough edges as the weeks progress in her life so far.
Williams credited his former Take That bandmates with reigniting his passion for music and performing after he experienced "textbook burnout."
I ran out of ideas, I ran out of energy, and I ran out of creativity. I needed to do something else, and fortunately it came in the shape of my old band.